5 Iconic Phife Dawg Moments
Paying tribute to one of the most evocative New York City rappers of all time.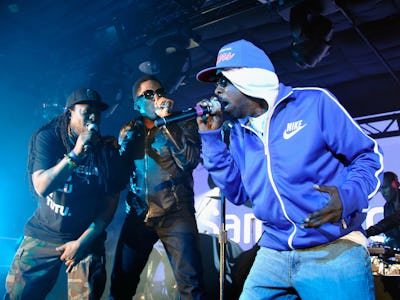 Founding A Tribe Called Quest member Malik Taylor, best known as the emcee Phife Dawg, died this morning at the age of 45. While the news is sudden, Phife had been struggling with health issues over the past decade; he had kidney transplant surgery in 2008, and battled diabetes throughout the latter half of his life. (Much of this is chronicled in Michael Rapaport's 2011 documentary about the group, Beats Rhymes and Life). An official statement from his family or the group is still pending.
For a generation of rap fans, the music of A Tribe Called Quest and the fluid chemistry of their two vocalists, Phife and Q-Tip, is canonical. While the group incorporated threads of a few things that came before, what they managed to create sounded fresh, vital, and beaming with positivity. The group found the right blend of sounds like no one else. Although the group itself started as a freewheeling collective — their coterie included a non-rapping member, Jairobi —they found their focus in the early '90s, going on to make two of rap's most revered releases of all time, 1991's Low End Theory and 1993's Midnight Marauders. Those records will be played today, and they won't sound dated. That's the magic of the spirit this group was able to channel throughout a too-short career as a recording group.
While Q-Tip was the ascendent star of the group, the fan favorite was always Phife; Tip's reputation was as its jazzy, free-associating poet, you likely remember the Phife lines most ("Collect my banks/ Listen to Shabba Ranks"). Here's a few of his greatest moments:
"Buggin' Out"
"Microphone check, 1-2, what is this?" There's nothing more to add to this than what's already there, cuz it's perfection.
"Lyrics to Go"
Last year, before A Tribe Called Quest opened a few dates on Kanye's Yeezus tour, Phife talked to Vulture about his favorite Tribe songs. He steered clear of the group's most popular songs, or songs that featured solo vocals from himself ("8 Million Stories"). Instead, he picked songs that had interesting production, or unusual musical ideas that he felt expressed the group best. Though he would take shots at Q-Tip after the group broke up, he always revered the group and the singular work they made together.
Yeezus Tour
The Yeezus tour was pretty good, but I think I can safely assert that the moment when Tribe bust out "Scenario" with a Busta Rhymes cameo was the night the crowd went wildest.
Beats, Rhymes and Life
Most fans were suspicious of the Tribe doc Beats, Rhymes and Life upon its announcement. But instead of hovering over the film's precedings, like most suspected he might, actor and Beats, Rhymes and Life director Michael Rapaport mostly lets the story tell itself. This leads to some revealing moments about Phife's life, legacy and health, and for a Tribe fan it's essential viewing.
"Check the Rhime"
"You on point, Phife?"
"All the time, Tip."