Google Offers Free Calls to Belgium and Turkey After Brussels Attacks
Any calls to a Turkish landline or most Belgian cell carriers are free.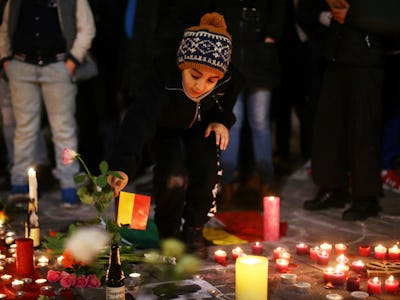 Getty Images/ Carl Court
After a series of attacks killed 31 and injured at least 230 people in the Belgian capital of Brussels, Google announced that all international calls through their Hangouts, Hangouts Dialer, or Google Voice apps would be free of charge to Belgian cell phone numbers and Turkish land lines.
Calls to Turkey are free as well, after other attacks hit the Turkish capital of Ankara and largest city, Istanbul.
You can download the Google Hangouts app for Andriod here and for iOS devices here.
In a blog post, Google expressed their loss and explained what they would do to help.
We are deeply saddened and appalled by the bombings in Brussels today, and by the recent violence in Turkey. Our thoughts are with the victims of these attacks, and their families.
To help people stay informed and connected with loved ones, we're offering free calls via Hangouts, Hangouts Dialer or Google Voice to Belgium and Turkey. You can now make free calls to people on Belgium's biggest mobile carriers—Lycamobile, Mobistar, Proximus, and Telenet—and to all landlines in Turkey.
Google is also offering up-to-date information on the attacks and situations in affected cities that users can transfer over the various services.
Earlier today, Facebook activated its Safety Check feature for people in Brussels. Terrorists struck Brussel's nearby Zaventem airport, killing 11 and injuring over 100, then later detonated bombs in the city's downtown Maelbeek metro station, killing 20 and injuring over 130. ISIS has claimed responsibility for the attacks, which may be connected with the same terrorist cell that struck Paris on November 13.