Jeff Williams Will Surpass Scott Kelly's Space Record
Kelly will still hold the record for consecutive days after completing his year-long mission in March.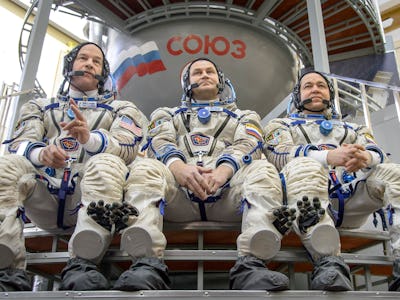 Bill Ingalls/ Getty Images
When Jeff Williams returns from his latest mission to the international space station, he'll become the record holder for the most cumulative days in space.
Williams arrived at the orbiting station on Friday with two Russian cosmonauts, Alexey Ovchinin and Oleg Skripochka. They joined three other scientists from Expedition 47: Commander Tim Kopra of NASA, and flight engineers Tim Peake and Yuri Malenchenko of the European Space Agency and the Russian space agency Roscosmos, respectively.
This will be Williams' third long-term stay aboard the international space station and is set to last six months. While Scott Kelly will still hold the record for most consecutive days (340 to be exact) living in space after returning from his almost-year-long mission in March, Williams will surpass Kelly in terms of cumulative days. Kelly spent 520 total days in space before announcing his April retirement and this trip will bring Williams' total to 534 when he returns in early September.
The astronauts are tasked with testing realistic fire scenarios aboard a spacecraft, observing meteors entering the Earth's atmosphere from aboard the station for the first time, and adding a new 3D printer to the station's wealth of gadgets — including a Microsoft Hololens and probably a gorilla suit.
Expedition 47 members are also expected to receive the Bigelow Expandable Activity Module (BEAM) during one of the cargo resupply trips. BEAM is an expandable habitat that will attach to the base and, if properly tested, could support astronauts while exploring asteroids or, maybe one day, Mars. However, this is just the first test of the expandable habitat in the harsh environments of space as the crew members will not be living in it, just simply checking on it periodically for the next two years as a demonstration.
Williams' and Kelly's extended stays in space are giving NASA valuable information about how the human body reacts to these environments so that one day they can send astronauts on more extended trips.