There's a New 'Luke Cage' Teaser Trailer at the End of 'Daredevil'
We get our first look at Harlem's hard-skinned hero.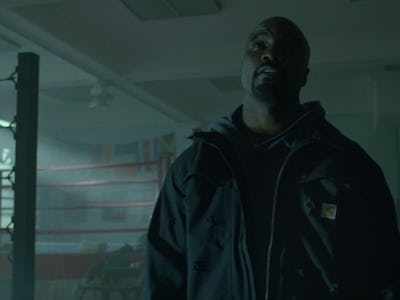 Netflix / Marvel Entertainment
Harlem's greatest fictional hero is about to have his very own TV series, and thanks to a post-credits teaser trailer at the end of Daredevil's second season, we've got a brand new look at him.
The upcoming Netflix original series Luke Cage will follow its eponymous hero (played by Mike Colter), who made his first MCU appearance during the first season of Jessica Jones. Cage, who has superhuman strength and durability after an experiment gone awry, is looking to build a new life in Harlem but finds himself ensnared in a fight for the city against villains like Cornell "Cottonmouth" Stokes (Mahershala Ali), who threaten it.
The 30-second teaser, available exclusively on Netflix, catches up with Cage in a gym, staring down a bunch of gun barrels. He seems, frankly, a little bored by it all, though, and simply says: "I guess you guys haven't heard about me." In response, the men with guns open fire and tear up Cage's clothes, alongside heavy bags and the walls with bullets that bounce off of his skin.
Once they've well and truly depleted their ammo, Cage says, "I'm about sick of always having to buy new clothes," just before tossing a man through an office window.
The trailer ends with the brand new Luke Cage logo, played out by Nas' "Made You Look."
Luke Cage arrives on Netflix September 30th.