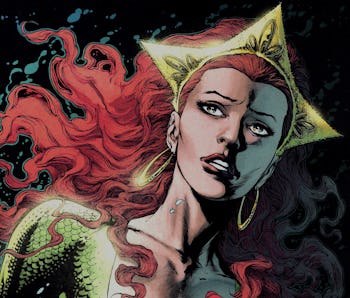 Entertainment
Who Is Mera, the Character Amber Heard Will Play in 'Justice League'?
A brief primer on the Queen of Atlantis.
DC Comics
On Thursday night, actress Amber Heard (Pineapple Express, The Adderall Diaries) revealed to Entertainment Tonight that in Zack Snyder's 2017 superhero crossover movie Justice League — Part 1, she'll be portraying the legendary, iconic DC superhero … Mera! Wait, who?
We're glad you asked.
First published in Aquaman #11 in 1963 by Jack Miller and Nick Cardy, Mera is the Queen of Atlantis and wife of Aquaman. Unfortunately, that's been the defining characteristic in her long history, minus a short arc in the Red Lantern Corps in 2009, when she helped fight fight the zombie Black Lanterns in the Blackest Night series.
Unlike her husband, Mera can't talk to marine life. So, while she can't act as a Shamu whisperer, she can manipulate water into any object. She is also a formidable warrior with herculean strength and some telepathic ability.
Aesthetically, she's definitely shopping with her husband, and generally has a similar costume to Aquaman's ensemble. (Heard described the get-up as "scaly").
For the most part, Mera has been a female analog of Aquaman — but with less to do. She's been somewhat underplayed in DC mythology. She has been adapted into animation and TV several times; she was voiced by Kristin Bauer in the awesome Justice League series on Cartoon Network, then by Elena Satine as a younger Mera in the Superman origin series Smallville.
But probably the best interpretation of Mera was in Young Justice, voiced by Kath Soucie. Though she only appeared for a scant few minutes, she was so efficiently introduced — as a hero worthy of her own stage.
In that series, she was a teacher who commanded respect and admiration. When Atlantis was under siege, she risked her life fighting off the assault by Black Manta. Young Justice was cancelled, so the show didn't explore her character more, which is a shame. Hopefully Zack Snyder's Justice League film can flesh her out.
Justice League — Part 1 begins shooting in April and will be released November 2017.