Uber Will Take You To Mexico, But it Won't Bring You Back
This could get complicated.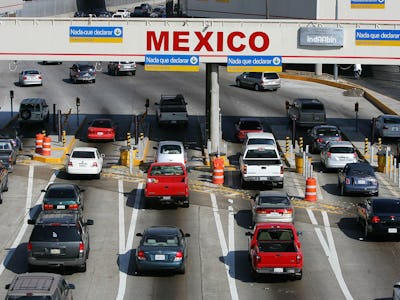 David McNew
The good news: you can now take an Uber straight across the U.S.-Mexico border from San Diego to Tijuana and beyond. The bad news: you can't take an Uber back.
Today, for the first time, Uber announced that drivers will be able to take passengers with the proper documentation (a valid passport) through the border crossing south of San Diego and into Tijuana, Mexico, and other nearby cities. Before now, drunk spring-breakers or other ride-sharing users had to call an Uber to get them to the border, walk across on foot, and then call another Uber on the Mexican side of the line. That's no longer necessary for crossing into Mexico, but you'll still have to do the same car-foot-car border shuffle on the way back, which could get complicated for college students after a night out in Tijuana. For non Spanish speakers, Uber does offer a service to connect riders in Tijuana to English-speaking drivers, which could make the drop off on the Mexican side of the border smoother, but you'll still have to physically walk across the border on the way home.
It's not just Tijuana — Uber's new "passport" service extends as far east as Mexicali and as far south as Ensenada, which opens up most of the northern Baja California region to ride-sharing travelers.
"It's very exciting for us because there are a lot of places where we could have launched a cross-border product, but we recognize the importance of the largest border crossing in the world and the unique relationship between San Diego and Tijuana," said Christopher Ballard, general manager for Uber in Southern California, told the San Diego Union-Tribune. "These are cities whose families, cultures and economies are closely linked."
The catch is that it won't be cheap. The service is only available through Uber's more expensive "black car" option, not the standard UberX. On top of that, you'll get charged a $20 convenience fee on top of the usual rates, which helps make the trek worth it for drivers, who risk getting caught in the long lines on the Mexican side of the border. According to the Union-Tribune, a trip from downtown San Diego to the Tijuana airport will cost around $100, and a ride from Pacific Beach to Rosarito could hit $160 or more. Fortunately, you can split the fare with up to four people, but it still might not be the most cost-efficient way of going abroad for the night.