Next Destination: Konya, Turkey Has Mosques for Days
The most religiously conservative city in Turkey has a bevy of religious sites to offer.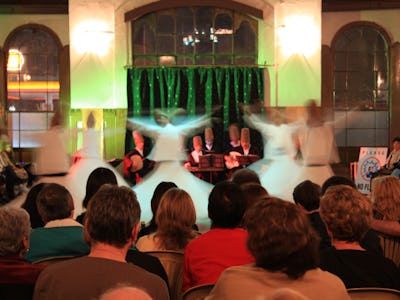 Flickr/Chris Price
Isn't it just the best when airlines add new destinations? Pretty recently, Turkish Airlines added flights from Stockholm to Konya, a city in the Central Anatolia Region of Turkey. Turkish Airlines also flies to Konya from London, so hopefully the airline will continue to add flights to other popular European cities. As the possibility of you going to Konya becomes more likely, let's look at what the city has to offer.
First thing's first: Whirling Dervishes. Have you heard of them? That's another name for the Mevlevi, or the enduring religious group founded by followers of the 13th Century Persian poet and philosopher, Rumi. In their infamous worship service called the Mevlevi Sama, the Mevlevi whirl around in circles, clad in white long dresses in remembrance of Rumi's "wedding night," or the night he died and became one with God. The religious service is derived from Rumi's own habit of whirling excitedly in the streets of Konya, where he lived for most of his life. The Whirling Dervishes are the most enduring aspect of Islamic mysticism, which makes sense considering that Konya is Turkey's most religiously conservative city.
The main attraction in Konya is the Mevlevi Museum, which is home to Rumi's tomb and is open daily with free admission. Once you enter the courtyard, you'll see the main building with a distinctive green cylindrical dome, and you'll be asked to cover your shoes with plastic covers to prevent tracking dirt into the holy museum. Inside on the right are Rumi's family's tombs, while his tomb is located in the center, under the dome, and covered in gold cloth. Outside you can visit the dervish cells, which show how the Mevlevi carry on in their daily lives.
Considering that Konya is steeped in religious culture, most of the sights to see here are affiliated with religion. If you're already at the Mevlevi Museum, venture right next door to check out the Selimiye Mosque, a prime example of the more modern style of Ottoman architecture. The Alâeddin Mosque is another religious edifice that demands the attention of a tourist — it's the city's largest, oldest, and most celebrated place of worship. The northern facade of the building boasts a mixture of Roman, Byzantine, and Seljuk-style architecture, while the entrance at the east end contains the mosque's famous forest of columns. There are countless other mosques and religious figures to visit while you're in Konya, but if you need a break from the religious stuff, go grab yourself a famous Konya kebab.