Emma Watson and 'Hamilton' Creator Lin-Manuel Miranda Freestyle Rap About Feminism 
#HeForShe doesn't just bring genders together. It brings Hamilton to Harry Potter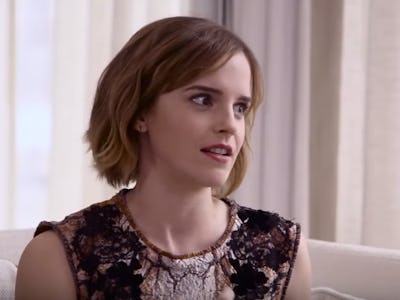 Youtube/ Dennis Harrock 
Now this is magic.
Harry Potter star Emma Watson and Hamilton's Lin-Manuel Miranda dropped a sweet new rap vid about gender equality on Thursday, uniting two fandoms in one YouTube video.
The delightful collaboration was made for the #HeForShe Arts Week campaign for International Women's day, part of Watson's initiative as head of S.P.E.W — sorry, as the U.N. Women Goodwill Ambassador.
Manuel sure has been busy; in his downtime from Hamilton, he's visited the White House and, evidently, scored himself a major movie role: The 36-year-old multi-hyphenate might be playing Dick Van Dyke role in the Mary Poppins sequel. That's all in the future, though; right now, you can watch Watson and Manuel talk in a four-part interview, which you can find on Watson's Facebook page. Turns out that Hamilton is partially inspired by Harry Potter.