Google Releases Plans For Its Futuristic New Headquarters in California
What's happening at Charleston East?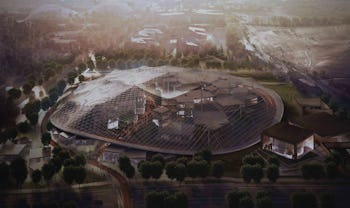 City of Mountain View/Google
Buried in city bureaucracy you can find some treasure like, say, the future of the American workplace. As such, the latest designs for Google's headquarters were posted to the City of Mountain View website recently, detailing loops of public walkways and an effort to stay true to the ecological region.
Back in May 2015, the Mountain View City Council OK'd just 595,000 of Google's 1.5 million square-foot land request for Charleston East, new headquarters. LinkedIn got the rest for its planned offices, a decision by the council that the New York Times deemed worthy of a David vs. Goliath comparison. (It was also a decision about economic diversity as Google is already the single-largest taxpayer in the municipality.)
The February 2016 design stays true to that May 2015 proposal, which envisioned an office building with two above-ground floors and one below. This building will be incorporated on a 18.6-acre project site — a vision described in the project plan that represents "a clear vision of business and nature coexisting." A giant glass dome with indoor canopies that will regulate "indoor climate, air quality, and sound," the centerpiece of the new Google campus will be anything but modest.
The whole project is a part of Mountainview's North Bayshore Precise Plan — an environmentally-focused effort to revitalize the underdeveloped area along Highway 101. Incorporating designers and architects from New York, London, and Santa Monica, the campus is intended to have fully developed indoor and outdoor spaces that incorporate "native habitats and vegetation." What's being called a "Green Loop" will run through the campus, pathways that will snake through parks lined with cafes and shops. Google is designing this section with the public in mind — a sort of National Mall to its Washington Monument.
While the development of the project will involve the removal of 100 trees designated by California as "heritage trees," Google will be allowed to remove them as it plans to replant native species that will booster the biodiversity of the region like Oak trees, sage, manzanita scrub and other native grasses. With a nod to the current drought plaguing California, the tech-corporation will only plant vegetation that has a reduced need for water.
The design concepts are as ambitious as they are stereotypical of the Silicon Valley. Google hopes its new home will incorporate beauty and simplicity, flexible and "hackable" spaces, ecology and access to nature, and efficiency of resources and materials.
Efficiency will be necessary, seeing how many people the layout is designed to accommodate transportation-wise. There will be 1,200 parkings paces, 660 long-term bicycle parkings spots, 400 short-term bicycle spots, and 400 spots for shared bicycle parking.
Currently there is a not a publicized date for the completion of the campus but those interested in giving Mountain View a piece of their mind can keep an eye out for the next public meeting. What doesn't need to keep an eye out is, allegedly, birds. Google acknowledges that a giant glass building isn't the best thing for local avians, but makes clear in the design plan that it's going to do whatever is necessary to keep the crashes to a minimum.
The whole plan is available on the City of Mountain View website, but traffic to the nearly 48-megabyte PDF file has been so high, Dropbox has been "temporarily disabling" links from it, as you can see above. We've uploaded the PDF our own Dropbox account, though: Review all of Google's Charleston East, February 2016 plans.