Google's Bus-Detecting Patent for Driverless Car Is OK'd -- Not a Moment Too Soon
The news comes just in time for a meeting with Congress.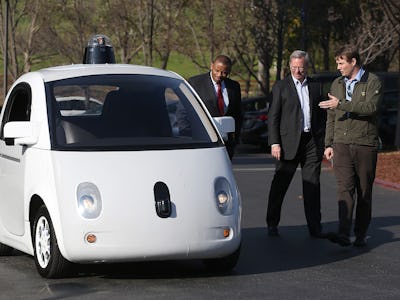 Justin Sullivan/Getty Images
A new feature is in store for Google's self-driving cars that may have helped circumvent the Valentine's Day bus crash. Google's patent for a school bus detecting system was approved on March 8, two years after it was submitted for review. And it couldn't have come sooner.
The patent's approval follows Google's self-driving Lexus RX450h SUV's fender bender on February 14, when it swiped the side of a municipal bus at two mph in California.
While the technology in the patent specifically detects school buses (it would have a preset threshold size for school buses and would be able to identify particular vehicle colors), Google's patent shows that the company is doing everything it can to address the recent bus crash and ensure that its autonomous cars are safe to be on public roads.
The director of Google's self-driving car program, Chris Urmson, spoke about the crash on Friday at the South By Southwest conference in Austin, Texas saying that it was a tough day for the company, but that there will be worse days in the future — as there are with testing and developing new technologies. The approved patent could also be a helpful talking point for Urmson when he and other car companies face the Senate Commerce Committee on Tuesday to make the case for self-driving cars.
Both the self-driving car and the human test-driver involved in the accident detected the bus and thought it would yield. When the Associated Press acquired and released a video of the crash from the bus camera, Google's monthly driverless car report — which came out the day after the AP video — went over the accident in detail, stating that the accident was the result of a misunderstanding no different from most human-caused crashes.
This is interesting given that the Google self-driving car project website states:
"Deaths from traffic accidents — over 1.2 million worldwide every year — could be reduced dramatically, especially since 94 percent of accidents in the U.S. involve human error."
The technology will essentially enable the self-driving car to change its driving behaviors around certain vehicles. The proposed system uses a series of sensors, including cameras, radar, microphones, and lasers, as well as wireless communication systems to differentiate a school bus from other vehicles. When it detects a bus, the system would instruct the car to drive more carefully.
As of February 29, there are 23 Lexus RX450h SUVs and 33 Koala prototypes in three cities, with Kirkland, Washington being the newest city to have Google's self-driving cars on its roads. The self-driving cars have driven over 1.4 million miles autonomously since the project began in 2009.