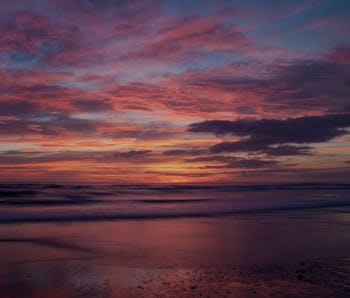 Innovation
Next Destination: New Flights Make Costa Rica's Nicoya Peninsula a Weekend Spot
New flights to Liberia, Costa Rica open up possibility of quick trips to a coast with white sand beaches and pretty decent wifi.
Flickr/Jeff Moore
Let's give a big shout out to airlines expanding their destination options, thereby allowing us more access to, well, more. Last summer, the Costa Rica Tourism Board confirmed that Jetblue was adding a second flight to Liberia, Costa Rica, leaving out of Boston and arriving in Daniel Oduber Quirós International Airport in Liberia, the largest city and capital of Costa Rica's Guanacaste province. On top of that, Southwest Airlines announced the addition of Libera as the 97th destination on their roster, with direct flights leaving from Houston. While Liberia received a decent share of inland tourists as it stood, the new direct flights make Costa Rica's western coast a weekend destination.
The Nicoya Peninsula is a quick flight (or two) away.
The Nicoya Peninsula is about 75 miles long and is the largest peninsula in Costa Rica, separated from the mainland by the Gulf of Nicoya and divided into the Guanacaste province in the north and the Puntarenas province in the south. Although the two provinces have their defining differences — namely that Guanacaste is drier and flatter while Puntarenas gets more rainfall and has more hills. Both provinces boast some of Costa Rica's most serene and breathtaking beach destinations. If you're one of those people who craves the unbeatable tranquility of those Corona commercials, then you should definitely start looking on Expedia for your flight to Liberia now.
If you're looking to get some world-renowned surfing in on your trip to the Nicoya Peninsula, then Guanacaste is your dear friend. Since the international airport in Liberia is located in Guanacaste, you'll have to start out your trip in the north anyway. Tamarindo is the surf capital of the Nicoya Peninsula and a main center for tourism in Costa Rica's northern Pacific area. With Playa Grande slightly to the north and Langosta, Avellanas, and Playa Negra to the south, there will be no shortage of incredible surf spots. If you keep traveling south, you may arrive at the turtle beach Ostional, or head more inland to discover the city of Nicoya, which contains Costa Rica's oldest colonial church.
Specifically, the recently added flights to Liberia open up the possibility of exploring the southern region of the Nicoya Peninsula, Puntarenas, an area that has remained fairly secluded due to poor roads. Now, however, public transportation and roads have hugely improved, allowing more tourists to visit the undisturbed, placid beaches of Puntarenas. Visit Santa Teresa for breathtaking views of a white sand beach, or the enclave of Montezuma to be surrounded by waterfalls and rivers while still, yes, on the beach. Large tourism still hasn't found its way to the southern region, which is something that natives would like to keep that way. That gives you a chance to stay in some of the most luxurious boutique hotels in Costa Rica before the Four Seasons shows up and ruins everything.