Marvel Teases New 'Civil War' Trailer With #TeamCap and #TeamIronMan Videos
United we stand, divided we fall, but who cares? Spider-Man better be in that trailer tomorrow.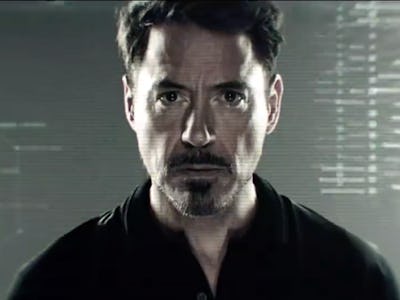 Facebook/Ironman
The wars between rival comic book titans are mere days and months away, with the unwieldy and exceedingly grim-looking Batman v Superman: Dawn of Justice from DC debuting in theaters on March 25, and Marvel's sleek semi-Avengers movie blockbuster-to-be, Captain America: Civil War dropping on May 6. To try and take some wind out of DC's bat wings, Marvel has accelerated its marketing this week, first revealing a series of posters that feature Team Cap versus Team Stark. Now they've done that annoying thing studios do all the time now and created opposing teasers for a new trailer that premiere tomorrow.
The videos show off the obvious six-hero lineup behind Captain America including Cap himself (Chris Evans), joined by Falcon (Anthony Mackie), Hawkeye (Jeremy Renner), The Winter Soldier (Sebastian Stan), Scarlet Witch (Elizabeth Olsen), and Ant-Man (Paul Rudd). Team Iron Man includes Tony Stark (Robert Downey Jr.), Black Widow (Scarlett Johansson), Vision (Paul Bettany), and Black Panther (Chadwick Boseman).
Weirdly enough, Don Cheadle is missing, but we think there's a look at War Machine's armor in between Vision and Black Widow. Maybe Cheadle was busy that day?
Also: still no Spider-Man. Will we get a chance to see our friendly neighborhood webslinger in that trailer tomorrow? Here's hoping we do.
In the meantime, check out #TeamCap here:
And #TeamIronMan here: