Google Debuts Destinations, Which Just Plans Your Vacation for You
Google now offers vacation itineraries, including walking directions.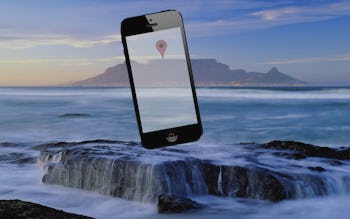 Bid adieu to your travel agent: Google's now got that job covered, too. The ever-expanding "search engine" is now a vacation planner. Between your mobile searches about House of Cards phones and 5-dimensional black holes you can now open up a figurative wormhole of your own: How about a trip to Cape Town, you'll muse, and then Google will facilitate your spur-of-the-moment decision. Just a few thumb taps and, next thing you know, you're on the way to South Africa.
Google announced what it's calling Destinations on Google on Tuesday on its corporate blog.
Its simplicity and intuitiveness would be impressive if it weren't Google that we're discussing. To begin the virtual journey that will lead to your actual journey, all you need to do is plug in "[Country Name] destinations" or "[…] travel or "[…] vacation" to Google on your mobile device.
You can then filter this search by city, interest, travel dates, and price. (South Africa's available "interests" include safari, surfing, culture, elephant, golf, etc.)
If you already know that you prefer Cape Town, you can click on that city. Google will then present you with information about the city and perhaps the coolest aspect — suggested itineraries. (For instance: "Waterfront & Robben Island"; "Table Mountain Area Highlights"; "Top Sights on the Cape Peninsula"; etc.) Keep scrolling and, among other things, it'll tell you the best times to travel based on either popularity and price or on climate.
Then you're ready to plan a trip. Next thing you know you'll be in the most beautiful country on earth: Google gives you estimated trip prices that include flights and hotels. You can customize dates, number of travelers, hotel class, and more. To top it all off, there's a scrollable chart that displays the estimated price as the year goes on.
Impulse buys are quite alright if you're dropping $15 on a new, swanky iPhone case. But if you've had a long day at work and are existentially fed up and proceed to late-night drop a grand and a half on a vacation to some exotic locale, you'd better hope Google rolls out a responsibility guide in the near future. Regardless, we're all for encouraging travel and eliminating the mind-numbing banalities of travel planning. Just be sure to step outside the box that is your mobile phone if you actually make it to that exotic locale: I've heard the locals know a bit more than Google does.