BMW's 'Vision' Fuses Artificial Intelligence and Augmented Reality with Transportation
"In the not-too-distant future ... people will get around in robots on wheels."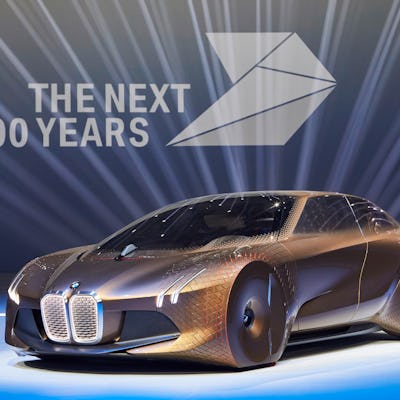 BMW
Monday marked BMW's centennial. To celebrate its own birthday, the German automaker company shared its "Vision: Next 100" concept car: An autonomous, presumably electric, luxurious dream vehicle.
As is common among concept cars, the BMW Vision (if it may be so dubbed) is pure absurdity. The car is not something that's easy to picture in public: even its tires are wrapped in gold. It's not exactly clear how the tires even turn, which seems important even for a concept car, but it seems that the amorphous material encasing the wheels is flexible and vaguely shapeshifting. But the German car company is taking an honest look at the future, attempting to predict how the technology and demands of tomorrow will mix and meld with the norms of today.
"For the BMW VISION NEXT 100, the design team specifically took into account all the trends and technological developments that will be most relevant to BMW in the decades ahead."
Those "trends and technological developments" include artificial intelligence ("The Companion"), augmented reality windshields ("Alive Geometry"), and recycled or renewable materials. The Companion will learn about "the owner and their mobility habits" and become gradually more aware: "At some stage it knows the driver well enough to automatically perform routine tasks for them and offer suitable advice when needed."
And Alive Geometry sounds — for now — like some crazy-raving speculative nonsense. But it also sounds awesome:
"The triangles work in much the same way as a flock of birds in controlled flight, their coordinated movements acting as signals that are easily comprehensible to those inside the car. Combined with the Head-Up display, they involve the driver in a form of preconscious communication, where an intuitive signal predicts an imminent real-time event."
Lastly, the concept car promises the driver the ability to smoothly toggle between "Boost" and "Ease" driving modes: when the former is selected, a not-so-circular "steering wheel" emerges from the dashboard, enabling the driver to actually act as a driver (with AR displays highlighting potential obstacles, pedestrians, and so on, and presenting the best routes and suggested speeds); when the latter is selected, the driver becomes the passenger and the autonomous system takes over.
If you'd rather imbibe these ideas in video form, look no further:
See also: The Toyota Setsuna Is an Electric, Wooden Roadster You'd Love to Drive