The Toyota Setsuna Is an Electric, Wooden Roadster You'd Love to Drive
A sweet Japanese ride on which you'll never get your hands.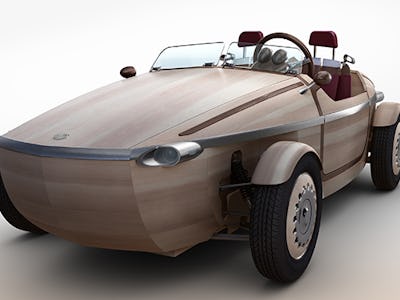 Toyota
Fashionistas of the world are making the transition from stylish get-ups of Milan to Paris Fashion Week. But those more interested in things you can use instead of simply wear are readying for that posh Italian city's Design Week, the Salone del Mobile Milano. It is there that they will set their eyes on the Toyota Setsuna — a wooden, electric car that resembles an adorable roadster.
Don't think of your grandma's Woody, this Japanese concept car looks more like a speedboat about to take you way Back to the Future. Or maybe nowhere at all —since it's not approved for riding on the road, not for sale, and basically a prototype Toyota is using to collect feedback in order to create future driving machines. The company has dedicated itself to getting carbon dioxide-omitting vehicles off the road within 35 years, so this is a further stride in that direction.
Produced by Toyota's chief engineer Kenji Tsuji and znug design's Kota Nezu, a duo that also created the Camatte, this is all-Japanese. It's made from replaceable panels from the nation's wood sources — cedar for the exterior, as well as birch, elm, the castor oil tree, and cypress — and uses the "okuriari" or a no-nails technique. Also, "setsuna" means "moment" in Japanese — a moment in time before the wood needs replacing.
Highlights include adjustable seat and pedals for the very small, it's electric and run by six 12-volt, lead-acid batteries, and you can drive it up to 28 mph. If it ever gets street-ready, that last fact will make it the perfect slow-moving vehicle for those attending Fashion Week 2017, all starving for a paparazzi to take their photo.