JetBlue Launches No-Experience-Required Pilot Recruiting Program 
With thousands of pilots reaching mandatory retirement age, airlines need to widen the talent pool.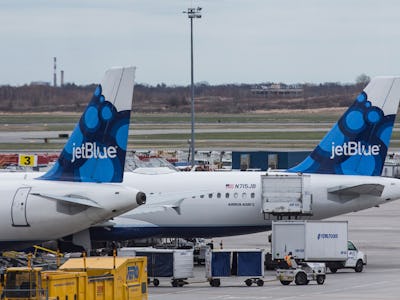 Getty
While you're waiting for NASA to read your application, consider putting in for JetBlue's newest pilot recruiting program launched Monday for even those without aviation experience. It's always good to have a safety.
The airline's latest recruiting program, Gateway Select, has 24 open slots for a novice pilots who want to learn to fly a passenger jet. If you're accepted, the program will take four years to complete at a cost of about $125,00.
"Over the past 10-plus years, CAE has established itself as a trusted partner of JetBlue in the oversight of its training equipment operations at JetBlue University," Nick Leontidis, CAE's group president, Civil Aviation Training Solutions said in the announcement. "We now have a unique opportunity to further tap into our breadth of flight training capabilities and support JetBlue in providing world-class training built for the next generation of pilots."
You might think that for $125,000, you're the one doing JetBlue a favor. But the company says that those accepted will have a contingent job offer at the start of the program guaranteeing them a job as long as they complete the courses. JetBlue argues that this is a much safer route to becoming an airline pilot than traditional methods where you could spend years and thousands of dollars getting certified on your own and hopefully getting a job at a smaller airline — assuming you can get a job to work your way up from.
Airlines are also desperate to recruit. Large airlines face a major staff shortage, with more than 18,000 pilots on their way to mandatory retirement over the next seven years. JetBlue itself hired more than 300 new pilots in 2015.
The evaluations will be based on the International Civil Aviation Organization's pilot competencies benchmarks. Be ready to be quizzed on critical thinking, spatial orientation, multitasking, and hand-eyed coordination.
If accepted, here's your calendar for the next four years: First off there's four weeks training at JetBlue University in Orlando learning fundamentals of aviation, 30 weeks at Phoenix's CAE's flight academy for core flyings skills, and finally a private pilot's license on completion. Once you have a license, trainees will take the Airline Transport Pilot — Certification Training Program back at JetBlue University. Lastly, there's 12 weeks of FAA licensing requirements and certified flight instructor qualifications and rankings. Only once you've completed all that will you start as an entry-level CAE flight academy instructor, on salary.
Inverse reached out to the company for some tips on how applicants can stand out and we'll update when we hear back.