I Visited the Best Taco Bell in America, And Yup, It's Still a Damn Taco Bell
My expectations were high. I wasn't. That may have been the problem.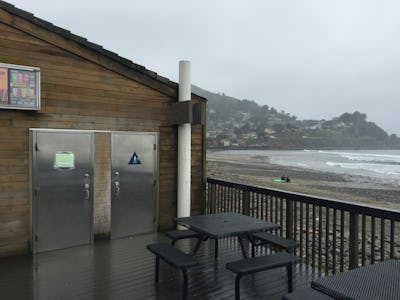 Brock Wilbur
Over the weekend, I made a bit of a pilgrimage that I felt was long overdue. While up in San Francisco, I went a out of my way to visit California's ultimate destination restaurant: the highest-rated Taco Bell in America.
Currently rocking a four-star review on Yelp, this Pacifica, CA location is famous for its direct beach location and a wrap-around porch with a gorgeous view. The wooden exterior and high-concept architecture makes it a perfect fit for the upper-class beach community where it lives, and other food bloggers have formed the idea that this branch is the height of Taco Bell culture — from the staff on down. This isn't the place to test new Mountain Dew spin-offs on unsuspecting yokels. This is the utopian dream of Taco Bell, prophesied in the film Demolition Man.
Unfortunately, it's still a Taco Bell. And, double unfortunately, I decided to visit during a massive storm.
While high winds threatened to tear the trees from the front yard, and gusts burst through the restaurant knocking cups to the ground. It became obvious that this wasn't the best place to sit during tropical danger. The employees seemed used to it, though, and didn't flinch when a young kid attempted to open the door to the beach and was almost trapped when said door slammed closed — as the wind attempted to remind him this exit was not an option.
The views of surf dudes attempting to catch the gnarly waves was kind of fun, because I was convinced I would see someone die from within the confines of the world's nicest Taco Bell franchise. And that gave me a surge of what I can only assume was patriotism.
The menu itself had no surprises. No weird off-menu items made their debut here, just the same safe choices I could slowly poison myself from anywhere in the country. I became a little sad as I started dictating my order to Ivan, a server who didn't seem to speak much non-Taco English. I'd managed to cut Taco Bell out of my diet for nearly a year and that this felt like breaking a form of sobriety. I wanted to say something to Ivan, to ask for help, but it wasn't the right time or the right forum. My order swelled to triple what I'd intended, and I felt that gravitational pull. Taco Bell holds tremendous power over un-tremendous white dudes.
I needed it. Bad.
I forced my way onto the back patio as I waited for my order. Sure enough, there was a view as savory as any hot sauce. Unfortunately, the almighty was trying to smite the building from the face of the Earth. The wind and rain were loud and wet and strong so and I went back indoors, but only after scoping the outdoor restrooms directly adjacent to the walk-up order window. Beach culture is weird. But I'm sure the local surfers appreciated the effort.
Is Taco Bell store #030754 at 5200 Pacific Coast Highway worth your time? Yes, if you happen to need Taco Bell and you're on that specific stretch of Pacific Coast Highway. Otherwise, maybe just check out the view. But if you need to use a public restroom and immediately after order a chalupa, tell Ivan I sent you.
He won't know what that means.