"Mars Missions Will Take 2.5 Years," Say NASA Scientists
During a Reddit AMA, the NASA scientists shed new light on the mission to Mars.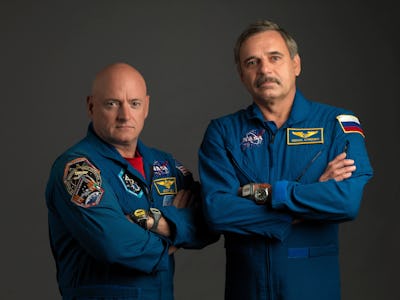 NASA
After spending 340 consecutive days in space aboard the International Space Station, Scott Kelly is back home on Earth. But his #YearInSpace mission is not even close to over. Even though he's only been back for a few days, NASA's scientists and doctors have already hit the ground running to take advantage of studying what exactly the long duration of space habitation has done to Kelly's body.
On Friday, a group of scientists and doctors from NASA did an AMA on Reddit, answering the internet's questions about what's in store for Kelly for the next year and what they've learned about the effects of space environments on humans in anticipation for future missions to Mars and beyond.
Among the biggest things we learned:
"Mars missions will last much longer than ISS rotations of 6 months — possibly up to 2.5 years", according to John Charles, the associate manager for international science at NASA's Human Research Program. The space agency is interested in studying the slew of different ways the body adapts to weightlessness, isolation, space food, and more. "Everything we measure will be directly relevant."
Kelly grew two inches due to the weightlessness of space, but he'll be back to normal very soon. "As soon as Scott returned to gravity and stood up, gravity began to compress his spine again," said NASA flight surgeon Shannan Moynihan. "Most likely, he is already back to his pre-launch height."
If we want to go, we'll need to learn how to grow more plants in space. Among the findings about weightless agriculture, NASA's chief scientist for the ISS Julie Robinson said: "The biggest challenges is helping the roots get the right amount of water. On earth, water settles to the bottom of the container due to gravity and the roots are adapted to draw up the right amount of water by capillary action. In space the water is distributed everywhere in the container and the roots are experiencing a flood."
NASA's still trying to tackle the issue of vision loss. "We think the shift of fluids to the brain causes the optic nerve to swell and press on the back of the eye, literally causing the globe (eyeball) to flatten!" said Robinson.
To better study the effects of microgravity on the body (to prepare for life on the moon or Mars), NASA is indeed pursuing technology that can modify gravity in certain environments and mimic what would be felt on another world. But, as Scott Smith, the manager for NASA's nutritional biochemistry laboratory put it, there are "[l]ots of issues…e.g., do you spin the whole vehicle? or put a smaller centrifuge inside the vehicle? do you need to spin 24h/day? or is 1-2 hours enough? what level g do you need? A handful of ground-based bed rest studies have been conducted to assess some of these questions."
ISS is still a point of pride for the international community. "One of the really important aspects of ISS is the way we work together with our international partners (Canadian Space Agency, European Space Agency, Japanese Aerospace Exploration Agency, and Roscosmos)," said Robinson. "Over 90 countries have participated in some aspect of research or education on ISS. The space station keeps us working peacefully together and I believe even when there are other political difference, this type of international cooperation is good for the world."