Syfy Acquires Post-Apocalyptic Series 'Aftermath'
What happens when a family must fight for survival in a world overtaken by supernatural creatures?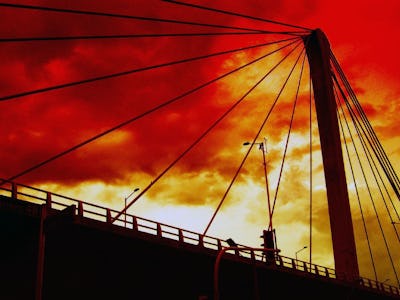 Flickr/Luz Adriana Villa 
One of TV's favorite things to do is imagine a world after this one ends, which is why there's no shortage of apocalyptic programs right now. Whether the approach is silly and whimsical, like NBC's You, Me, and the Apocalypse, or dystopian and drama-fueled like USA's Colony, it's clear that audiences crave the wild imagination and creativity required to create post-apocalyptic worlds. Syfy has most recently hopped on the train: The network acquired 13 episodes of post-apocalyptic thriller Aftermath from Noreen Halpern's Halfire Entertainment, which is set to premiere this summer.
The show was created by William Laurin and Glenn Davis, and revolves around a family — Karen and Joshua Copeland and their children Dana (Julie Sarah Stone), Brianna (Taylor Hickson), and Matt (Levi Meaden) — as they battle to stay alive when their world is destroyed by natural disaster, plagues, and the rise of supernatural creatures. Dana and Brianna are twins — Dana is the cynical, quick-witted one, while Brianna is rebellious and more aware of her emotions. Matt is competitive and will be pushed to brutal limits by the world that has replaced the old one. Casting is still underway for the roles of the parents. Jason Stone, who will direct the first two episodes — and previously worked on the satirical apocalypse-based comedy This is the End with Seth Rogen and James Franco — will predictably take a different approach with the grave content of Aftermath.
The apocalypse is one of the most unfathomable events in human society, which provides plenty of room for embellishment. Noreen Halpern, president of Halfire Entertainment, said, "Nothing captures the human imagination quite like fantasies of our own destruction — every culture has its own myth." Based on the sparse information available about "Aftermath*, it seems like the show will stake its claim in the post-apocalyptic catalogue, striking a balance between the supernatural and the emotional.