Link From 'The Legend of Zelda' Will Be Your Guide on Google Maps
Link replaces boring peg on Google Maps' Street View function for five days.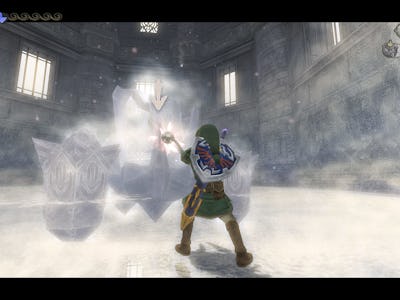 Facebook/Official Legend of Zelda page
Have you ever craved something a bit extra from your Google Maps experience? When you use the Street View function, do you wish something more exciting than that boring peg would lead you to your destination? If you answered "yes" to either of those incredibly specific questions, then today is your day! Google Maps has replaced the normal peg with a tiny pixelated version of Link from The Legend of Zelda video game. Link will guide users to their destinations for the next five days, according to the Japanese Zelda Twitter account.
I'll say, it's about time we added some valiance to the Google Maps experience. What could be more reassuring than having Link, a courageous young man responsible for battling evil and protecting his own kind, lead you to where you're going? This isn't the first time Google Maps has attempted to spruce up its service by adding a bit of geek culture to the equation: In the past, Google Maps has allowed users to turn any place on the app into a game of Pac-Man and on April Fools of 2014, they threw in a bunch of Pokemon for users to go out and catch. Link won't be our guiding force forever, so make sure you get some good directions from him before we have to go back to that ho-hum peg.