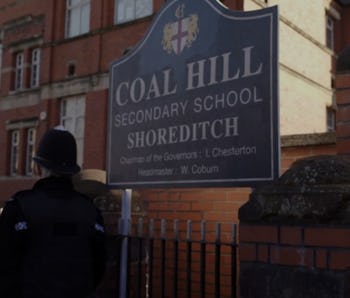 Entertainment
Will the New 'Doctor Who' Spinoff Will Be Worth Your Time?
Though Patrick Hess' Class is geared towards a YA audience, Who fans of all ages will enjoy it.
independent.co.uk
The details are finally coming together, and it looks like the new Doctor Who spin-off Class is going to be worth a watch when it debuts on BBC Three and BBC America this fall. Set at Coal Hill Secondary School — former workplace of Who companion Clara Oswald — the show will focus on the exploits of students tasked with reversing "incredible dangers breaking through the walls of time and space" in present-day London.
With an initial run of eight episodes written by A Monster Calls author Patrick Hess, Class will definitely target a younger audience than Doctor Who, but a slightly older crowd than very kid-friendly The Sarah Jane Adventures. And while many Whovians would love a slightly more mature spin-off (akin to Torchwood), Class will likely delight Whovians young and old alike.
Hess is a great YA novelist who writes young protagonists well and still manages to create intense villains and plots. The show's –– relatively brief –– first season will hopefully allow Hess and the cast enough room to grow without overstretching them. Filming is set for April, and while the cast has yet to be announced, don't expect too many familiar faces, human or alien. Hess has made it plain: While this will be a Doctor Who spin-off, he plans to introduce a whole new group of heroes and baddies to the Who canon:
"I want to show the world new stuff. I want to have new things that maybe we haven't seen before. That's my goal. That's what I'm aiming for — shock you with something new. Something like the Weeping Angels, which I think are great, are brand new. Steven Moffat invented them a couple seasons ago. There's not going to be any weeping angels on Class, but I'm just saying that they're something new to the Doctor Who universe that are just awesome, and I would like to do that."
We know that Clara (played by Jenna Coleman), currently cheating death, flying around in a big blue coffee shop with new BFF Ashildr (played by Maisie Williams), will not be returning at her old stomping grounds. However, it has been confirmed that Peter Capaldi will indeed be making at least one appearance as the Doctor.
Class should be familiar enough to attract current Who fans of all creeds. Coal Hill acted as a fairly important backdrop for Doctor Who's eighth season, the workplace of Clara and Danny Pink. And although some may worry if an ensemble cast of youngsters can carry the show, two of that season's most enjoyable episodes (The Caretaker and In the Forest of the Night) cast students from the school as the Doctor's companions, and the eventual heroes of the episodes. Plus, Coal Hill was the setting for the very first Doctor Who episode, An Unearthly Child, so hardcore Who fans can expect to find plenty of Easter eggs.
And, really, who are we kidding? Even if the show is complete and utter crap, we'll give it at least a three- or four-week test drive. While Doctor Who is on what amounts to a Summer Olympics-induced year-and-a-half long hiatus, Class will provide a much-needed fall fix for many Whovians in withdrawl. As we pine for the for the next 18 months, any Who-adjacent show, age demographic be damned, will be just what the … Doctor ordered.