How Charli XCX's New EP 'Vroom Vroom' Cements Her Pop Star Status
Charli XCX's increased command of her own career is separating her from the pack.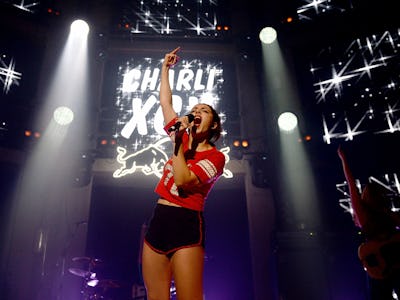 Samir Hussein/Getty Images
Charlotte Emma Aitchison, the British singer and songwriter better known by her stage name Charli XCX, has received consistent acclaim since her feature on Icona Pop's hit "I Love It" in 2012 and the release of two studio albums — True Romance and Sucker — in following years. Charli XCX's catalog highlights her penchant for high-energy, top-down pop music jam packed with biting attitude and a tendency to shirk responsibility for the sake of loud fun. There's a certain invigorating energy that shines through her music — her robust confidence and driving desire to have fun elevate her punk-indebted brand of pop to a level that honors the artist behind it all.
Last week, Charli XCX released the four-track Vroom Vroom EP, which features glitchy, twisted production by famed PC Music producer Sophie. Compared to Charli XCX's previous projects, which consist of straightforward pop songs with an enlivening push to put your middle finger up, the Vroom Vroom EP represents a critical branching out phase in the pop star's career. That urgent sense of excitement is still here, but the Vroom Vroom EP shows Charli XCX taking the reigns of her own career and creating intricate and menacing experimental pop music totally unlike anything she has done before.
A few days before Charli XCX released her Vroom Vroom EP, she announced the launch of her own new label Vroom Vroom Recordings. In a statement describing the label's conception, Charli XCX said, "Vroom Vroom Recordings is my new, experimental pop label and it will combine my love for bubblegum pop with mystery and darkness. The artists coming up through it will be sharp, potent, deadly, and ultimately, will leave their mark on pop music." With a self-assured statement like this one, Charli XCX made it clear that she would not dissolve into the background of pop music but rather take a firm stance and chase peculiar visions to change it in unprecedented ways. The fact that she launched a label, in and of itself, is an impressive power grab that most pop stars don't go for. Huge teams of songwriters, producers, and wealthy high-up officials at record labels often shroud pop stars' visions, but Charli XCX's new label serves to provide the pop star with an important control boost to take her career to the next step.
The Vroom Vroom EP contains only four songs, but each one makes a specific statement about her overall vision for the newly-launched label. The first track is the attitude-packed kiss-off "Vroom Vroom," which finds her zooming around with her girls in a lavender Lamborghini. "Bitches know they can't catch me / Cute, sexy and my ride's sporty," she brags over a Sophie-produced beat that abruptly shifts from a wobbling bassline to a bouncier, hip-hop swag in the pre-chorus. Car sound effects like "vroom vroom" and "beep beep" are brought to life by intricately crafted harmonies. "Paradise," featuring Hannah Diamond's high-pitched, digitally rendered vocals, moves full speed ahead with the bubblegum premise of Vroom Vroom Recordings, while "Trophy" is a pep-rally pump-up track that positions Charli XCX as a cutthroat cheerleader who probably sneaks off during practice to smoke cigarettes behind the library. The last track, "Secret (Shh)," is the EP's flawless attempt at sinister, seething sounds and is the most recognizable display of Sophie's characteristic warped, chirping production. All of these songs sound completely different, but they are all so much fun in their own distinct way.
Charli XCX's reinvention on the Vroom Vroom EP takes all the necessary steps forward while holding on to what made her sensational in the first place. The middle-finger attitude, the beaming confidence, the occasionally starry-eyed Charli XCX are all still here, but the dazzling production and vision behind the songs animate the characters she embodies to a glimmering peak. Fans of her earlier work will see the qualities they've always loved about her in this new project, while those who weren't fans before have a totally compelling reason to be converted.
The extra steps Charli XCX has taken to assume more control in her career are likely to position her as a bona fide pop star as she continues to make music on her new label. Even more, her increased sense of authority in terms of her own career is a beacon of hope for pop music, an industry that often puts large teams before individuals.