'Where's Waldo?' Goes 360° in Gritty Franchise Reboot
Search like you've never searched before.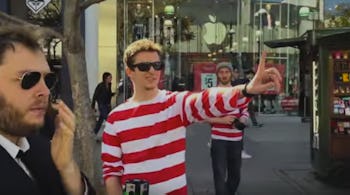 CorridorDigital
Thanks to a team of YouTubers who have put together a 360-degree video, Where's Waldo? has officially broken its two-dimensional restrictions. America's least popular party game and most confounding coffee table book series received an update that reimagines the red-and-white-striped hero as a fugitive (more or less) on the Santa Monica boardwalk. A large wanted poster makes it clear that this new, edgier Waldo has done something wrong.
The video unfolds so that even if you struggle to find Waldo, your FBI buddies on the ground might track him down first. The video cuts to several different scenarios in which your lovable sidekicks harass a bunch of people wearing red-and-white-striped shirts before eventually finding and giving chase to Waldo himself.
While you can't actually click on Waldo to show you've found him, you can scroll around the panoramic video and search in all directions. It's a fun take on an old classic, even if it's a little too real for the times. After all, should we be aiding an FBI search even when it's not clear there's anything to gain from it?
The how-to video the team at Corridor Digital produced about filming in 360 degrees is also worth a look. 3D video is still in its infancy, and though some new cameras are coming to market, the team took a more DIY approach, strapping five GoPros to a 3D-printed rig, giving them "a huge amount of resolution all around the board," video producer Wren says. Once they had all their film with its various overlapping segments, they stitched it all together using Kolor software.
If you liked the search for Waldo in 360 degrees, it seems the Corridor Digital team enjoyed making it and want to keep it up. "We're going to continue trying to make cool 360 videos the rest of the year."