Airlines Compete for Flights to Cuba, America's Next Hot Vacation Spot
American, Delta, Southwest, and others are racing to register flight plans.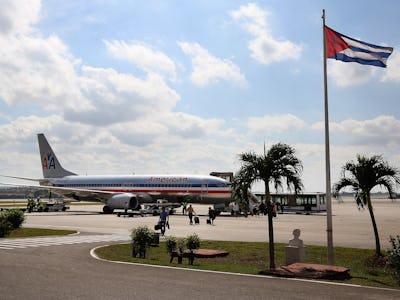 In the past, with diplomatic relations at their worst, getting from Havana, Cuba to Miami, Florida required makeshift boats, dangerous sea crossings, and refugee status for many Cubans. Cuban-Americans in the States were cut off from their families by 230 miles of water and half a century of conflict. But soon, Americans will be able to fly to Cuba and vice versa, dozens of times per day.
On February 16, the U.S. and Cuba signed an agreement to resume commercial air traffic, and the major airlines jumped on the opportunity to connect the two countries. The airlines had until 5 p.m. Wednesday to file their applications for commercial flight paths to the Department of Transportation, and the competition for precious Miami-Havana flights was fierce, according to the Miami Herald.
Nearly all of the 11 major American airline companies filed applications for flights, which are limited by airport's capacities and schedules. The Department of Transportation will decide who gets which flights out of the 110 daily U.S. to Cuba flights. Of those 110 are 20 daily flights to Havana, which most airlines consider the most valuable. American Airlines, who has leased their planes to charter companies who flew to Cuba before the ban was lifted more than 20,000 times, submitted an application for a total of 18 flights per day, servicing Havana, Miami, and several other airports across Cuba and the U.S.
As the relationship between Cuba and the U.S. continues to improve, opening up daily flights could completely transform the Communist country with an influx of American tourism spending. The Department of Transportation is expected to rule on the airlines' applications in the late spring or early summer, and flights could begin as early as this fall.