AMC Greenlights New Horror Anthology Series 'The Terror'
The show, set to premiere sometime in 2017, sounds like a 19th-century spookier version of 'Predator.'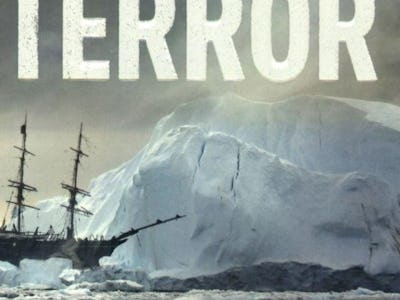 Amazon
In a post-Breaking Bad and Mad Men world, many thought AMC would slow down and be confused about what to make of its reputation as a platform for groundbreaking television. It seems a lot of people were worried about that other than AMC. The TV network has just signed off on 10 hour-long episodes of a new anthology series called The Terror, which will be based on the bestselling novel by author Dan Simmons, and will premiere sometime in 2017.
Set in 1847, the show tells the story of a Royal Naval expedition threatened by mysterious force while their ship searches for a route through the Northwest Passage. So it sounds like a post-Napoleonic Predator. Count us in.
The series will be executive-produced by Ridley Scott's company Scott Free, which is a good sign: Scott basically wrote the book (or in this case, made the movie) about dangerous things stalking a bunch of people in an enclosed space. It'll also be written by David Kajganich, the screenwriter of the much-maligned Invasion of the Body Snatchers remake, The Invasion, and a new un-produced adaptation of Stephen King's It.
"We've been focused on developing this incredible story for television with these great partners for a couple of years, and we think it provides rich dramatic material but also an opportunity to explore the anthology format, which is something we're extremely interested in and offers some unique possibilities," Joel Stillerman, president of original programming and development for AMC and SundanceTV, told Variety. "Originality is still something that gets our attention every day, and the very unique mixing of historical non-fiction with a gripping and imaginative science fiction overlay in Dan's novel is something that we hadn't seen before. That, combined with an exceptional team behind the project made this something we really wanted to bring to air on AMC."
AMC really seems to be hitting the genre shows hard, relying on its smash hit zombie apocalypse show The Walking Dead to carry the network while also making other shows like the comic book adaptation Preacher. Along with The Terror, it's supporting the miniseries format with the John le Carré adaptation of The Night Manager starring Tom Hiddleston and Hugh Laurie.
But the anthology miniseries angle is a bit strange. AMC is obviously trying to latch onto the True Detective template that HBO tried with its controversial series, but will it work for AMC? And moreover, if The Terror gets a second season, will it be based on an entirely different Dan Simmons novel or something else? It's kind of strange, but AMC knows what it's doing. There's nothing to be terrified about there.