M83's New Album 'Junk' Is Coming Soon
Out April 8, 'Junk' is almost definitely going to include some big synth sound and plenty of soundtrack-worthy tracks.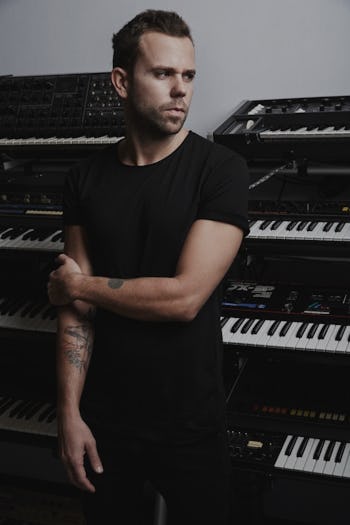 Andrew Arthur (via Mute Records)
M83 announced today that the follow-up to 2011's Hurry Up, We're Dreaming is called Junk and lands April 8.
Hurry Up, We're Dreaming's "Midnight City" was a breakout hit, one that garnered critical acclaim and staggering popularity. The album itself was nominated for a Grammy and carved itself a permanent spot as a standout album in 2011. But it's been nearly five years since the last M83 release, so what can we expect from Junk?
Where do we go from Hurry Up, We're Dreaming?
M83 (Anthony Gonzalez) is about as close as one can get to synth and electronic royalty, with its sweeping, spacey and atmospheric landscapes. A few years ago, you couldn't even overhear a conversation about electronic or synth-heavy music without hearing a mention of "M83" or "Phoenix" or "MGMT," probably all three. But music has changed, as music is wont to do, and M83 has probably done plenty of changing right along with it.
Junk will likely see plenty of big, synth-y backdrops, but will also probably echo Hurry Up, We're Dreaming's multitudes. Though clearly originating from the same creative vision, Hurry Up found space for upbeat synth bangers like "Midnight City" alongside moody, atmospheric slow burns like "Splendor" and bouncy, frolicking installments like "Raconte-Moi une Histoire." That's a large part of what made it successful.
Expect Junk to bring some of the the vast, atmospheric sound unique to M83, but be on the lookout for plenty of exploration. In an interview with Entertainment Weekly in December, Gonzalez said, "It's a very strong album with a lot of eclecticism. It's very epic. There's a lot of different genres that are not supposed to live together but I tried to make them live together, which is quite challenging. It's also quite different from the previous albums which is what I'm the most proud of."
The first single is called "Do It, Try It" and brings plenty of synth-y goodness. It's big and bright, but also brings some new sounds. It's got all the trappings of an M83 hit, but it's also decidedly different from anything on Hurry Up. Everything about it, right down to the panting puppy single art, suggests that this new M83 is going to be a lot of fun and surreal. The website now features large creatures that look like brightly colored mops with cartoonishly large plastic eyes, and a floating hamburger. What Junk is all about is anyone's guess, but it's definitely going to be an album that's wildly different from Hurry Up, We're Dreaming.
Music supervisors rejoice: finally some new M83 soundtrack fodder.
Hurry Up, We're Dreaming and Saturdays = Youth were both heavily mined for soundtracks, and M83 has an impressive 33 soundtrack credits. "Midnight City," "Intro," and "Outro" are among the most heavily used, but 11 of the 22 tracks on Hurry Up, We're Dreaming found their way into films, television shows, and games.
Considering Gonzalez's talent as a composer (Tom Cruise's Oblivion and 2013's You and the Night), this isn't terribly surprising. M83's tracks are charged but often lyrically sparse and its themes are vague and open to interpretation, meaning that they strike something of a perfect balance between fitting a scene and distracting from it. In the case of "Midnight City" and "Outro," they're also likely to strike a chord of recognition with audiences, but the tracks never became so popular that they become a serious risk for dating the films and shows. Though popular and clearly "of a time" for fans, they're a far cry from adding a big pop track to a soundtrack.
The sound is inherently cinematic, so unless Junk takes a sharp turn into another realm entirely, it's a good bet that you're going to see plenty of M83's new tracks on soundtracks for the next few years.