San Francisco's Police Chief Offers to Field-Test Smart Guns
The SFPD chief offers a pilot program when the tech is more developed.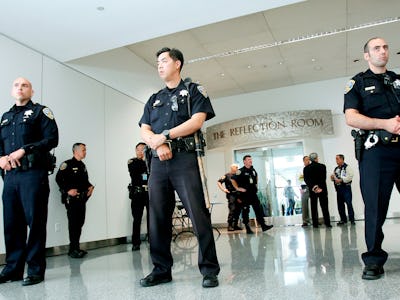 Getty
San Francisco police are welcoming the chance to become the country's biggest smart gun proving site as police chief Greg Suhr offered to equip the department's tech heads with the weapons in a speech this week.
"Officer safety is huge, so you wouldn't want to compel that upon officers," Suhr told audiences at a smart gun symposium in San Francisco. "But we have so many officers who are so into technology, I am all but certain there are officers that would be willing to do such a pilot."
The weapons could only be fired by an authenticated owner, which Suhr reasonably called a "good thing" for law enforcement.
"What if every gun that fell into the wrong hands was of no use to anybody?" Suhr asked. That's a dangerous question in a state where at least one gun store owner has refused to stock smart weapons because of death threats.
It's a good idea, though Suhr was basically preaching to the choir. The San Francisco Smart Gun Symposium was sponsored by Smart Tech Challenges Foundation, which funds entrepreneurs in the field.
Proof of smart guns' usefulness would be a good way to change the debate, though a cynic could read this as a necessary PR move for the department. The San Francisco PD is currently being sued by the family of Mario Woods, fatally shot by police on December 2, 2015. The officers claim self-defense, the family calls it another senseless, racially motivated shooting.
We've reached out to the SFPD for comment explaining how such a system would work. We'll update when we hear back.