'Thor: Ragnarok' Director Taika Waititi Is the Weirdest and Best Possible Choice
Take a New Zealand director best known for quirky comedies and give him the keys to a multi-million dollar franchise. What could go wrong?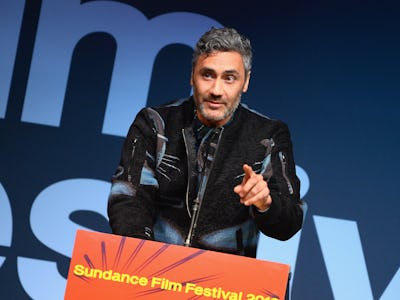 There's a lot of typical hubbub surrounding the next phase in the mighty Marvel Cinematic Universe. Civil War will pit the leaders of the Avengers against one another; Doctor Strange is going to be really damn weird; Guardians of the Galaxy just signed up Kurt Russell to probably be Star Lord's dad; Spider-Man is back at home in Marvel's hands; Black Panther bagged the best new American filmmaker to direct; and so on. Strangely absent from the next wave of superhero hype is the third installment of the relatively insignificant Thor series. Poor Thor, it's hard being a god. But the Thor movies get a bad rap for good reason: Their title character is perhaps the most boring and awkward Marvel hero in their intricate universe, and yet here we are on the cusp of his third standalone movie, Thor: Ragnarok. Good thing Marvel chose the most peculiar and potentially brilliant option to direct it.
Never mind the plot of Ragnarok. Those kinds of details are hopelessly easy to navigate with Thor movies. It'll doubtlessly be about Thor defending Asgard against some sort of grab-bag villain (potentially Cate Blanchett) and coming to terms with his omnipotent identity, and maybe Loki will show up.
Ragnarok will be significant only because of its director, Taika Waititi. Save for residents of his native New Zealand or fans of a particularly small sliver of alt-comedy, we won't blame you if you don't quite recognize his (awesome-sounding) name. It's partly on purpose. He's a dude primarily known for hanging out with the Flight of the Conchords guys and creating quirky comedies focused on a particular brand of downbeat kiwi comedy.
His first short film, Two Cars, One Night was nominated for an Oscar, and he eventually went on to direct a pair of endearing New Zealand-based comedies, Eagle vs Shark and Boy. The latter quickly became the highest grossing New Zealand movie of all-time. He continued to climb the indie comedy ladder, directing the hilarious vampire mockumentary What We Do in the Shadows in 2014 before his latest film, Hunt for the Wilderpeople, became a critical hit at this year's Sundance Film Festival.
It's a nice little filmography, and one that would have put him in line to direct a studio comedy if Judd Apatow caught one of his movies on Netflix or something. But instead, Waititi has suddenly found himself at the helm of the multimillion-dollar third installment of a series about comic book apocalyptic Norse mythology.
We're all for giving people a shot at bigger things, but it's not like it's particularly wise to just decide to promote a private to five-star general. Waititi isn't necessarily a novice by any stretch — his films were successful for a reason — but stepping into a blockbuster of this size is daunting for anyone. Couple that with the Thor movies' tradition of being typically unfriendly to creative types, which says something in the heavily anti-auteur MCU, and it becomes even more intimidating.
Thor: The Dark World had a particularly troubled route to the screen. Original Thor director Kenneth Branagh and Game of Thrones' Brian Kirk passed on the first sequel, and Monster director Patty Jenkins was soon tapped to direct in 2011. She would have been the first woman to direct a Marvel movie, but she quit two months later. Alan Taylor was hired soon after.
It's not as if Taylor had an especially jolly time directing The Dark World, either. Here's how he described his time behind the camera to Entertainment Weekly last year: "The Marvel experience was particularly wrenching because I was sort of given absolute freedom while we were shooting, and then in [post-production] it turned into a different movie. So, that is something I hope never to repeat and don't wish upon anybody else."
Waititi was hired for the Thor threequel in October 2015, beating out other seasoned filmmakers like Ruben Fleischer, Rob Letterman, and Rawson Marshall Thurber, who could all be innocently categorized as something akin to creative pushovers.
Marvel's out-of-the-box thinking has otherwise served the studio well, either because it took smart chances or it got to lord creative control over relative newcomers. James Gunn and Guardians of the Galaxy are perhaps the pinnacle of this gamble, but the same goes for The Winter Soldier and Civil War directors Joe and Anthony Russo, who were primarily known for directing episodes of Community and Arrested Development before they found themselves as Marvel's dynamic duo. Abide by the Marvel mold and you reap the rewards: The Russos are currently helming the massive two-part Avengers: Infinity War.
Marvel is giving genre craziness a shot with Scott Derrickson on Doctor Strange, and now it's turned to the blockbuster-untested Waititi. Save for a quick appearance in 2011's ill-fated Green Lantern movie, this is the closest he's been to something this large-scale. But scale is something that makes him the best wildcard Marvel has yet.
Waititi is adept at small-scale character-based stories, and can almost effortlessly find humor from the most monotonous places. Monotonous characters ring a bell? Throw in the self-deprecating humor he's so good at, add a dash of action and a character-focused story, and voila: there's the potential for a good Thor movie. It doesn't take an all-powerful god to figure that out, and Waititi certainly knows that already too.