Could Russia and India Beat the U.S. to Mars by Working Together?
Two nations may prove stronger than one.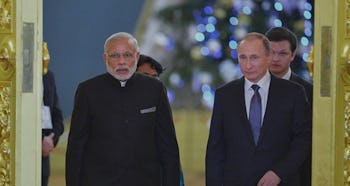 Sputnik News
A Russian diplomat in Chennai, India has expressed interest in partnering with India on a manned flight to Mars. While Russia and India do have a long history of working together on space flight, would they be willing to do what it takes to win the next great space race?
Sergey Kotov, the consul general for the Russian mission in Chennai, mentioned the possibility of a manned flight to Mars at an appearance at an Indian school in honor of that nation's National Science Day. Whether or not he sees India and Russia collaborating on the very first mission to Mars remains to be seen, but India's recent investments in space technology could actually help bolster Russian efforts and even prove critical.
"Though history of space is not bigger than history of mankind, it is still a great step forward. And the then Soviet Union and Russia has taken this step forward. In the future, we will have such steps together with India," Kotov said.
India's space program, called the Indian Space Research Organization (ISRO), became the fourth in the world after NASA, the European Space Agency, and Roscosmos, the Russian program, to launch a space observatory back in September, 2014. India can even claim its own Mars orbiter, a similarly rare accomplishment for a young space program.
And perhaps most importantly, India and Russia are pushing each other forward on space exploration. The two countries signed a 2007 agreement to jointly send one rover made in India and one lander made in Russia to the moon in 2017. If the project goes well, it could inspire both countries to make the investments necessary to at least give NASA a run for its money.
Collaboration between Russia and India on spaceflight goes back to 1975, when the Soviet Union ferried India's first satellite into orbit:
That being said, even a partnership between the two nations appears unlikely to beat the United States, which has recently witnessed a spate of interest in landing people on Mars. NASA may be holding to an early 2030s date for putting a manned crew on Mars, but private companies like SpaceX and Boeing are already planning for manned missions to the International Space Station, meaning the most likely challenge to the United States probably comes from private companies in the United States.
However, the United States has a mixed relationship with space travel, preferring to celebrate the dashing victories than to pay for the investments that make them possible. Even the recent discovery of water on Mars may not be enough to keep the politicians from shutting off the space-money spigot if another recession demands cuts from the budget.
A lot has been made of China's space efforts, particularly their desire to land a rover on Mars by 2020. If the rover is successful, it would put China in the big leagues of space-faring nations. However, the idea of a partnership has a lot of merit as well.
Both India and Russia seem to feel they have a lot to prove to the 21st Century world, and if they keep pushing each other forward, they might just end up on Mars.
If there's one lesson the United States should have learned from its early space missions, it's that you never count out the underdogs: It took the Soviet Union launching the Sputnik satellite back in 1957 for Americans to realize they needed to ramp up the country's space efforts, and in little more than decade, America was on the moon.
It's been almost a half century since the United States won the last space race. Every day we delay, other countries are playing catch up. China, Europe, Russia, India, and even the private sector are all stretching their wings, hoping to play spoiler.