This Is What It's Like to Climb the 3rd-Tallest Building in Shanghai
"You will get a good feeling when you are standing on the edge of a 200-meter building."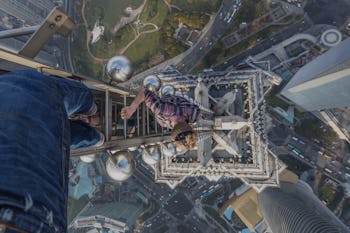 Andrej Ciesielski
Would you risk being banned from a country for life to climb something you shouldn't? Andrej Ciesielksi would. He's already done it.
Part of a new breed of urban climbers called builders or roofers, Ciesielski, regularly scales the tallest buildings he can find without ropes or protection to catch them if they fall. For his latest stunt, the German teen summited Shanghai's Jin Mao Tower.
Ciesieslski, who's 18 and lives in Munich, Germany, tells us about the rush of standing on the edge 650 feet up and explained why he isn't allowed in Egypt anymore. But first, that Shanghai video:
Who are you besides being a climber?
Many people say that I don't look like roofer, which is really good when I try to get into a building which is really good secured. I started roofing two years ago with some friends. We started climbing cranes in Munich and other cities in Germany. One time I got caught and got in big trouble with the German law. I stopped roofing because I don't want to get in trouble anymore and I searched for new goals in the world.
Clearly you're not scared of heights.
At the beginning I was really afraid of heights. I think you need to break the fear in your brain. The fear is in your head. It's like a fence that you need to climb over and when you do that you're not afraid of heights anymore. You will get a good feeling when you are standing on the edge of a 200-meter building.
How are you not in a Chinese jail right now?
No, I'm home now and I will go to Hong Kong soon where I have a big project. I'm happy that the Chinese didn't ban me from China.
How did you get out without the authorities erasing your footage?
After the climb I hid all memory cards and I showed them an empty card with some photos that I took on the streets. Even if they would delete the photos I can recover them with software.
What's your motivation here? Is it just the climb or do you hope to get something more out of this?
Like every climb, I never know if I'm able to reach the rooftop and even the spire. It was a surprise that I reached the spire with my friend. We wanted to get to the top of the Shanghai Tower but it's impossible. Of course, it's fun for me to make cool videos and release them on the internet. I don't make the videos and photos for money or for fame. I make them because I love roofing.
In January you climbed a pyramid, and in that case, the Egyptian authorities caught you. How did you get the footage?
Yes, they deleted everything, but I could recover the photos and I'm now banned from Egypt for my lifetime.
Do you have backers or investors who send you around the world to summit famous structures?
I found some new sponsors and they pay sometimes for my travels and also for my videos, and help me to make better videos — and use drones and stuff like that.
What are you going to summit next?
My next journey will be Hong Kong, but I can't tell you more. I only can tell that I will use a drone.