'The Light Between Oceans' Is Pure Uncut Weepy Oscar Bait. It Looks Great.
Director Derek Cianfrance ups the melodrama in his new movie starring Michael Fassbender and Alicia Vikander.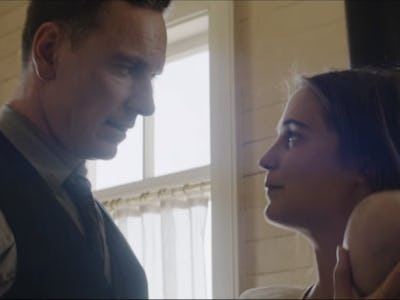 YouTube
Director Derek Cianfrance is one talented dude. He broke out on the scene with the Cassavetes-esque 2010 drama Blue Valentine, starring Ryan Gosling and Michelle Williams. He returned a few years later in 2013, re-teaming with Gosling again, with the multi-generational fathers and sons story The Place Beyond the Pines, which garnered comparisons to The Godfather no less. Cianfrance took three years again to develop his next movie, The Light Between Oceans, and we now have our first look at the melodrama in all its weepy glory.
Based on the novel of same name by author M.L. Stedman, The Light Between Oceans tells the story of a lighthouse keeper and his wife on a remote island off Australia just after World War I who discover a dead body and a baby one day on the shore. The pair decide to raise the baby on their own for years, but eventually realize that the baby's mother could be alive and well in their local community.
Hoo-boy, that sounds pretty dramatic doesn't it? It's the type of heavy-handed soapy goodness that hits the Academy Awards spot nicely. Luckily for Cianfrance, he recruited a trio of Oscar nominees and one winner to headline the cast.
Michael Fassbender plays the lighthouse keeper, while actress Alicia Vikander, who absolutely killed it in the sci-fi drama Ex Machina last year, plays his wife. Both are nominated for Oscars this year for their roles in Steve Jobs and The Danish Girl, respectively. Fassbender was previously nominated for an Oscar for his role in 12 Years a Slave in 2013. Rachel Weisz, who plays the potential mother, won an Oscar in 2005 for her role in The Constant Gardener.
With its windswept Australian vistas, sentimental camerawork, and fairly depressing plot, The Light Between Oceans looks to be a bittersweet treat. The movie is set to open on September 2.