San Francisco Is the Only Half-Decent U.S. City, Mercer World Rankings Find
New Yorkers urge Mercer to get out.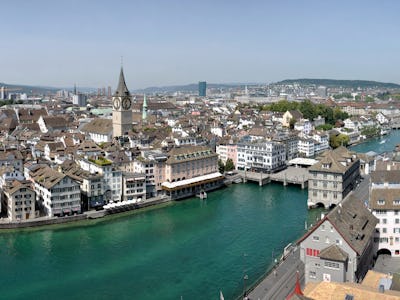 Hansueli Krapf; Wikimedia Commons
The annual Mercer Quality of Living rankings shows you must be out of your mind to live in the United States. San Francisco finishes as the top-ranked American city — number 28 overall. Boston is next at 34, and Honolulu follows at 35. Chicago and New York City place 43 and 44, respectively.
Vienna repeats in the top spot for 2016. Zurich, Switzerland places second and Auckland, New Zealand landed in third. The rankings skew heavily to Western Europe, but New Zealand and Australia do post impressive figures.
"Auckland ranks 3rd globally, Sydney 10th, Wellington 12th, and Melbourne 15th. For personal safety, Pacific cities also rank high, with Auckland and Wellington sharing 9th place. Canberra, Melbourne, Perth, and Sydney share 25th place," the firm's news release says.
That's 10 cities in either Australia or New Zealand, home to about 28 million people put together, that do better than any city in the USA, with a population of over 310 million. America is great at many things, but perhaps city living is not among them.
Canada and Europe also do well in the rankings, though Paris, in particular, has struggled recently. It dropped 10 places since last year to 37, largely due to its poor performance in the personal safety ranking where it places 71st — a couple of high-profile terrorist attacks can't have helped.
The Mercer list is intended to help multinational corporations decide whether certain cities are affordable and safe for expatriate workers. Companies can purchase detailed reports of individual cities to determine whether an expatriate worker living there should receive a hardship allowance. "Multinational companies need accurate data and objective methods to determine the cost implications of deteriorating living standards and personal safety issues when compensating expatriates," Ilya Bonic, president of Mercer's talent business, said in the release.
Mercer keeps its formula for the rankings secret, so we don't know if placing 44 on the list entitles New York employees to hardship. Considering Mercer itself is based in the city, we doubt having to pay $2,000 a month for a studio in Brooklyn is the kind of hardship to which they're referring.
Now, it's well below the dignity of a city like New York to dispute the rankings of some little corporation that thinks it has some insight into greatness. And, in fairness, New York is doing a lot to improve transit and access to affordable housing because of legitimate concerns that the city is becoming out of reach for ordinary people.
Big cities inherently get dinged on a list like this. Just consider the performance of Asia's grandest metropolises. Singapore tops the group at 26, with Tokyo coming tied with New York at 44, Hong Kong at 70, and Shanghai at 101.
Size does matter when it comes to the quality of a city, and lists like these misrepresent its value. You could fit the top three Mercer cities into a single borough of New York, and it still wouldn't be as diverse as Queens or the Bronx.
The best part about big cities is they're constantly changing, so you never get bored of them. People and companies are coming and going all the time. But how high is the quality of living in the most crowded places in the world, anyway? A baseball legend once quipped of a restaurant that no one goes to anymore — it's too crowded. It was a very Yogi Berra thing to say, and it turns out, very New York as well.