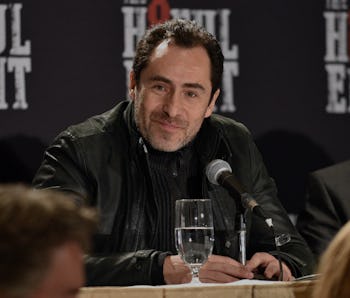 Entertainment
'Alien: Covenant''s Latest Casting Proves That the Franchise Has Story Issues
But it's beginning to sound a little bit too much like 'Alien' all over again.
Getty Images
It looks like Mexican actor Demián Bichir is going from The Hateful Eight to a bunch of hateful acid-blooded Xenomorphs. Bichir has been tapped to join the cast of director Ridley Scott's latest installment of the Alien/Prometheus franchise, currently titled Alien: Covenant.
Bichir, who is mostly unknown in the States outside of TV series like Weeds and The Bridge, has a laundry list of roles in his native country. Hopefully, this sheds some more light on the actor, who was also nominated for a Best Actor Oscar in 2011 for his role in the film A Better Life.
Bichir's role in Covenant is being kept under wraps, but given the track record in these Alien movies, this'll probably be his last time dealing with the alien antagonists since most of the time the ensemble Scott puts together gets destroyed with only a single survivor.
Who will be that lone survivor this time? Take your pick: Prometheus lead actress Noomi Rapace won't be back this time around despite being the only human to survive the end of that movie, but another survivor, actor Michael Fassbender's android character David, is set to return for Covenant. Joining Bichir and Fassbender is Katherine Waterston, who previously wowed audiences in writer/director Paul Thomas Anderson's Inherent Vice. The latest and most perplexing casting announcement in the movie was funnyman Danny McBride, who will undoubtedly try to be the comic relief to all the Xenomorphic carnage.
Prometheus was set 30 years before the events of Scott's original 1979 movie Alien and was centered on scientists discovering an advanced civilization developing biological weapons that could wipe out the human race or create a new one. It was enough to set it apart from the other movies in the series, and while Alien: Covenant is technically the sequel to Prometheus, it's looking more and more like a soft reboot of Scott's original movie.
Without Rapace, the only real link to Prometheus is Fassbender, and adding a ton of different cast members updates the story immediately. Plus, the official synopsis just basically sounds kind of like Alien all over again:
"Ridley Scott returns to the universe he created in Alien with Alien: Covenant, the second chapter in a prequel trilogy that began with Prometheus — and connects directly to Scott's 1979 seminal work of science fiction. Bound for a remote planet on the far side of the galaxy, the crew of the colony ship Covenant discovers what they think is an uncharted paradise, but is actually a dark, dangerous world — whose sole inhabitant is the "synthetic" David (Michael Fassbender), survivor of the doomed Prometheus expedition."
Decide for yourself how original it is when Alien: Covenant opens on October 6, 2016