Super-Opiate Fentanyl Is Now Illegal in Massachusetts
One state finally steps up to curb the fentanyl-related overdoses.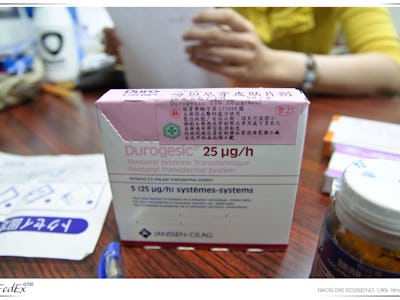 FedEx/Flickr
Recent years have seen an opiate over a hundred times stronger than heroin lace America's streets, resulting in a rapid rise in overdose deaths. Little has been done, however, to curb the illegal spread of fentanyl, a drug normally prescribed as a painkiller for patients undergoing brutal cancer treatments. That is, until now — as of Tuesday, trafficking fentanyl is illegal in Massachusetts, a precedent that may encourage other states to follow suit.
According to the new law, selling the synthetic opioid in amounts greater than 10 grams is now punishable by up to 20 years in state prison. Previously, manufacturing, distributing, or possessing fentanyl, regardless of quantity, could be punished by up to 10 years of jail time, but these laws clearly weren't enough to curb its spread. In comparison, the penalty for heroin trafficking is 30 years in prison.
By turning trafficking into an even more serious criminal offense, lawmakers hope to keep the ongoing fentanyl abuse crisis contained.
One of the biggest issues with fentanyl is that it's frequently been mixed in with other street drugs, like heroin, by enterprising drug dealers — but users aren't normally aware of it. The drug is associated with a drowsiness reminiscent of morphine-induced euphoria, which even an extremely low dose of fentanyl will elicit. Individuals whose bodies haven't learned to tolerate the super-drug's potency are at serious risk of being fatally overwhelmed by its incapacitating effects, especially if it's mixed together with other drugs.
Disturbingly, law enforcement officials have also found fentanyl being sold illegally by nurses and physicians, stolen from pharmacies, and distributed by enterprising patients.
Last year, the CDC reported that Massachusetts had the second-highest number of fentanyl seizures of any states, coming in after Ohio, which has yet to pass a proposed bill increasing the penalty for illegally possessing the drug.