FTC: Stratford Career Institute Is Peddling Worthless High School Diplomas 
At $1000 a pop, you should at least be accredited.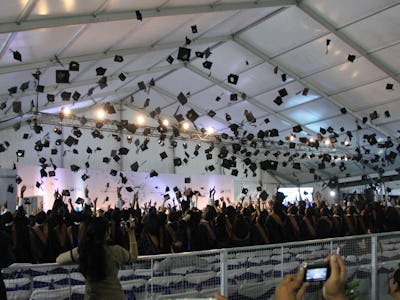 Wikipedia Commons
The Federal Trade Commission has accused the Stratford Career Institute of fleecing thousands of students looking for a better life by charging them as much as $989 for a worthless "high school diploma."
The complaint, authorized by the commission in a 4-0 vote, accuses the Montreal, Canada, headquartered institute of heavily advertising that its diploma program could open to the doors to a better job, higher earnings, and promotions. This despite the fact that Stratford is not accredited and that its program fails to meet minimum educational requirements in most states.
"Stratford promised that its high school program could help students get better jobs and access higher education," Jessica Rich, director of the FTC's Bureau of Consumer Protection, said in the release announcing the complaint. "For many students, those promises were false because schools and employers rejected Stratford's supposed 'diploma.'"
According to the complaint:
Stratford's most popular program is its high school diploma program ("the program"). Between May 2010 and April 2014, the full tuition price for the program was $989.00, though various discounts available during that time period could lower the price considerably. The lowest discounted price for this time period, which was offered between May 2013 and April 2014, was $441.75.
Stratford went so far as to purchase online advertising with search terms "official high school diploma," "real high school diploma online," and "legal high school diploma" to lure potential students. Unfortunately for anyone who believed the testimonials:
Many consumers cannot use their Stratford diplomas to enroll in four-year colleges and universities, community colleges, or vocational schools, or to obtain, keep, or advance in a job. Stratford's own records, including documents such as consumer complaints and survey responses, demonstrate that this is a widespread problem. According to those records and other evidence, prospective employers and admissions counselors decline to accept Stratford's diploma and tell consumers that they cannot use it as they would a diploma from a traditional high school.
Stratford diplomas cannot be used as valid secondary school equivalency credentials because, among other things, Stratford only requires its students to complete eighteen course units in order to obtain a diploma. In contrast, many states require students to earn more than eighteen course units in order to obtain a high school diploma, and to complete courses that Stratford does not offer, such as foreign language, laboratory science, fine arts, health, and physical education courses, and additional courses in mathematics.
This is the second suit the FTC has filed against the for-profit school industry this year. The commission filed a similar complaint in January against DeVry alleging the school attracted students with illusionary promises about career prospects. A September 2015 study from The Brookings Institute found that students from non-profit schools have much lower employment rates in the two years following graduation, a likely reason for them being twice as likely to default on student loans as their counterparts at traditional four-year schools.
Stratford has yet to publicly respond to the FTC's complaint, though its Twitter feed offers some painfully stoic advice to students about how you can't really waste your time as long as you learn something. Assuming the FTC's claims prove out, some students just paid an awfully high price to learn you should always do your research.
The FTC's complaint is in line with the negative reviews at the Better Business Bureau from former students who say they were coaxed out of thousands in exchange for a worthless degree:
I went for a high school diploma and all these years I thought i had one and to come to find out it was not accredited. how can they give out a certificate that says high school diploma is that illegal? and i pad $600 something, when i could have just got my GED for $50.00 had a real high school degree. I want my money back? - by Brenda D. on 6/6/2015
Waste of money. I spent over a thousand dollars for my online high school diploma and it turns out not to be accredited ???? - by lupe g on 3/3/2015
I spent $700 to receive a diploma that I could have printed out of Photoshop for free. Do not waste the time attempting to obtain a High School Diploma through this company, it's not worth the paper it's printed on. After attempting to apply to three different colleges, one of which was a community college, I was informed by all that I would need to obtain a G.E.D. in order to properly further my education. A friend of mine also went through this company in an attempt to obtain a degree in Medical Transcription, the hospital she applied to laughed her straight to the curb. - by Kristen S. on 9/17/2014
In the interest of fairness, the BBB also listed three positive reviews, with all noting that they didn't care about accreditation because they were just enjoying the classes. Take this review from Frankie F., who says the school's value isn't an issue because "I'm not able to work":
have been taking courses from stratford career institute for many years. Ive never had a issue with them. The payments are affordable for me. Im disabled and on a limited income so I cant afford much. I know they are not accredited but for me that isnt a issue because Im not able to work. I take the courses for the knowledge. It gives me something to do and builds my confidence. What many dont realize is their courses are a starting point to see if you want to get into that field with farther education at other schools. It just teaches the basics. I feel you are never to old to learn. I will probably take their course until I have taken all of them. I have never had a problem getting help from them on issue. Never a problem with book shipments or them grading me right away. If someone wants accredited there is many other online schools that have it. This school just works for me. - by frankie f. on 7/10/2015
All of which is fine as a hobby, but it seems like a low bar to ask that students paying a career center get training that would help them to, you know, get an actual career.
Stratford Career Institute has yet to respond to interview requests from Inverse. We'll update when we hear back.