Here Come the Pulpy Horror Comics of Your Dreams
Titan Comics and Hammer Films have announced a new line for this year.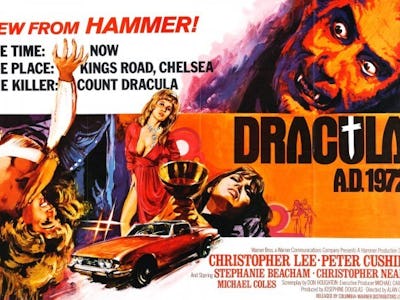 Titan Comics
Hold on to your butts, spooky fans! Titan Comics has paired up with Hammer Films to produce a new line of horror comics, due later this year. Fans of pulpy retro art and monsters will be excited to know that Hammer Films produced countless art-trash films starring Peter Cushing in the 1950s. There's only one reason Titan Comics would have signed a contract with Hammer, and that's to put stylized comics about Frankenstein and Captain Kronos right into our grubby little hands.
The announcement feels related to Universal's upcoming Avengers-style films featuring classic cinematic monsters. Will 2016 see a successful horror franchise for a rebooted Frankenstein, Dracula, and the Wolfman, supported by Hammer's comics? I'd like to go on record as the only Inverse writer who's excited for new films about the once-scary characters who now just remind us all of Monster Mash.
Luckily for Titan Comics, Hammer's spooky pantheon extends far beyond the A-lister ghouls. Some of the best films produced in the '50s starred Peter Cushing as he ran from Twins of Evil ("one uses her beauty for love, one uses her lure for blood!"), The Gorgon, The Ghoul, Night Creatures, and the satanic spiders from The Devil Rides Out.
Comic Book Resources reported that the new comics would address the classic characters from Cushing films while expanding into "all-new properties." This is a smart move for both companies, given that horror comics have gotten only better in the past few years.