Green Arrow Fails Star City in DC's 'Legends of Tomorrow' Trailer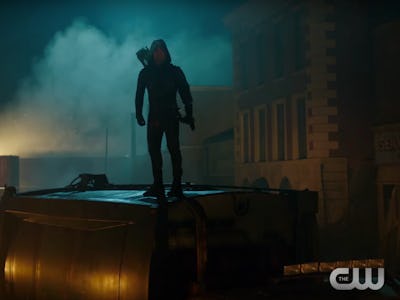 The CW
Oliver Queen has failed his city.
Shown at the end of this week's episode of DC's Legends of Tomorrow, the trailer for "Star City 2046" provides glimpses of a dystopian future where law and order have given way to chaos. Evoking parts of Frank Miller's The Dark Knight Returns, Oliver Queen — who isn't dead, so he must be a recluse or something — returns with a goatee and gray hair just as he did in Miller's Batman comic books. He's also supposed to have one arm, but he must have a prosthetic.
Also shown in the trailer are Connor Hawke and Deathstroke, who isn't being played by Manu Bennett. In the comics, Connor Hawke is Oliver's son, a multiracial superhero whose mother was Native American. Legends of Tomorrow sought "an African-American or bi-racial" actor. They came through — a nice aspect of the character and not just another white dude.
Stephen Amell from Arrow is guest-starring in the episode, and shortly after the trailer aired he tweeted a few pictures from the set.
I have to admit, I'm not entirely looking forward to seeing the episode, simply because I don't want my heart to break. Seeing the smashed and broken Arrow Cave is going to ruin me.
DC's Legends of Tomorrow airs Wednesdays on the CW.