It's About to Get a Lot Harder to Prank Airports With Your Drone
Why are you even doing this in the first place?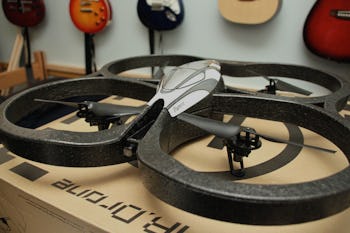 Yutaka Tsutano
In what is nothing less than a trifecta of techno-security, the Federal Aviation Administration is partnering with the Department of Homeland Security and an Arlington, Virginia-based defense contractor called CACI International. Their mission? To boldly identify previously unidentifiable drones.
Drones are cool and all, but when you consider that the FAA gets more than 100 reports of completely unidentifiable drones flying near airports or manned aircraft each month, you can understand why "rogue drones" are a cause for concern. CACI International is at work on a system that might not only track and identify these drones as they approach, but take over the radio signals that control them and steer them a safe distance away.
How many of them do you think will "accidentally" crash to the ground in the process?
CACI's proof-of-concept system makes use of radio frequency sensors placed in high, prominent places around an airport. The sensors detect irregular frequency activity attributed to unmanned drones, and upon detection, the system triangulates the location not only of the drone, but of the troublemaking pilot on the ground too.