Canadian University Establishes First Chair in Transgender Studies
University of Victoria professor Aaron Devor is the only chair of transgender studies in the world.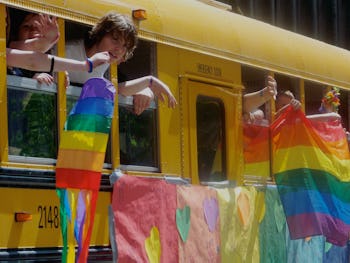 jglsongs/Flickr
The rise in public awareness of transgender issues, whether the product of celebrity revelations, Amazon Studio shows or just the arc of history, has heralded what's called a "transgender tipping point" in visibility. With the creation of the world's first chair in transgender studies, the University of Victoria is making academic reality of a perceived change in public attitudes.The public university has appointed sociology professor Aaron Devor as its first Chair in Transgender Studies, a unprecedented decision. A scholar of transgender issues for the past 30 years, Devor is an award-wining teacher and author. He is also transgender himself.
"Far too many trans and gender nonconforming people still live in poverty and fear," said Devor in a statement. "As the inaugural chair, I will act as a resource locally and internationally for those needing information for their own research or for policy development, as well as building linkages between community-based and academic scholars working in transgender studies."
He serves as the director of the Transgender Archives, a major resource for scholars studying the community. (If all the materials within the archives were lined on one shelf, they could stretch the length of a football field.) The academic volumes, representative of 17 countries and more than a century of research, are an unsurpassed collection of transgender thought and research.
Devor's new position was made possible from a $1 million donation from the Tawani Foundation, which has also promised to donate a million more if other donors match their contribution. The founder and president of Tawani is transgender activist and retired U.S. Army Lieutenant Colonel Jennifer Pritzker.
Pritzker told the The Chronicle of Higher Education that she hopes that by financing this chair she can bring "enlightenment, knowledge, and tools for society to better understand and deal with issues of human sexuality."
The idea is that by firmly establishing transgender studies as an essential component of academia, researchers will have the proper foundation to create the work that will influence policy-makers and support activists. This momentum has been building — a steady flow of papers on transgender issues began to be published in the 1990s and the first reader on the topic was published in 2006. The first transgender studies-specific journal, Transgender Studies Quarterly, was established in 2014 and in March 2015 the University of Victoria hosted the very first symposium on trans history.
In a 2014 opinion piece, Devor expressed his hope that as transgender studies become more mainstream, the struggle of the transgender people will become more understood. Trans people are four times more likely to live in poverty, he states, and twice as likely to be homeless.
Devor's appointment comes amid a public discussion of transgender issues that has not always led in a helpful direction. On Tuesday, South Dakota became the first state to pass a bill through its state house and senate barring transgender students from using their bathroom of choice.