You're About to Buy Your Own Lying Cat From 'Saga'
'Saga''s most popular character will be available in interactive plush form in May.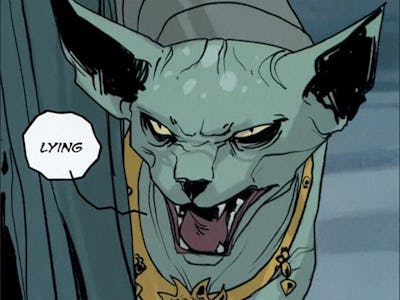 In May, a company called Essential Sequential will release the first official plush doll inspired by a Saga character. Customers who pre-order the talking Lying Cat plushie before her release date will also receive a signed print from Brian K. Vaughan and Fiona Staples, the creators of Image's best selling comic series.
Vaughan and Staples famously declared their comic un-adaptable to film and television back when it began, but the comic's huge scope and committal to being both raunchy and heartfelt have made it Image's cornerstone series for years. Though it can be enjoyed only in comic book form, it is vastly outselling The Walking Dead, and was sold out even at the time of its first printing.
The plush Lying Cat is 19 inches tall, has a posable tail, and will be available wearing a green variant color for fans at Emerald City Comicon. Unfortunately, the dolls available for pre-order are available only with ridiculous shipping fees — either 10 bucks for priority shipping or 30 bucks for express, with no cheaper options — so a single doll amounts to at least 45 bucks. I'd say it's not worth that much cash, but we all know what Lying Cat would have to say to that.