"Sea Bubble" Could Bring Driverless Car Tech to Urban Rivers Starting in Paris
Can automation take waterways by storm?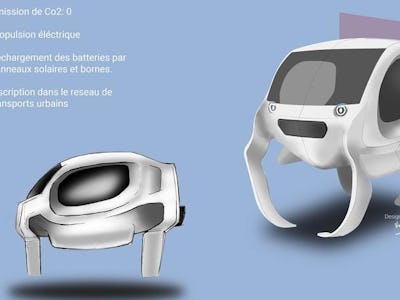 Sea Bubble
The world's first flying water taxis will soon be floating passengers down the Seine river in Paris. The electric, zero-emission vehicle, called the Sea Bubble, will float 70 centimeters above water, touching only along its four "marine wings." It is set to begin testing in Paris this summer with possible commercialization coming as early as 2017.
The Sea Bubble was invented by Alain Thébault, who holds several sailing speed world records. He is best known as one of the designers of the l'Hydroptère, a ship that was able to break 50 knots thanks to its innovative hydrofoil.
The Sea Bubble is a departure from the high speeds Thébault has grown accustomed to, but apparently that's part of the point. The Local reports that Thébault decided to build the new ships after returning from a long-distance sailing trip, and his daughters told him to start thinking about more important things.
"They told me to invent a zero-emission cab because they were sick of seeing the pollution in Paris, London, and in the U.S.," he said.
The Sea Bubble can reach 18 km/hr, slower than cars travel on Paris streets, but Thébault is hoping the reduced traffic will make the nautical option more appealing. It's also hard to compare the romance of floating down the Seine at any speed to navigating the back alleys of Paris in a car driven by unknown cab driver.
And as for the driver, Thébault expects the vehicles to be autonomous soon. "Initially, there will be drivers, but quickly, our vehicle can become autonomous," he told The Local.
While Paris will likely see the first tests of the sea bubble, numerous cities appear to be vying for the first major rollouts. Expected to retail for EUR 30,000 (USD $32,000), Sea Bubbles could make a feasible private vehicle or taxicab. In fact, London and San Francisco have already expressed interest in housing fleets of their own.
Many, if not most, big cities have major waterways that connect large portions of the population, meaning the market for the sea bubble could be as large as the sea itself.