Martin Shkreli Teaches Chemistry on His YouTube Live Stream
In which young Martin wavers between hood and the one from Mr. Rogers.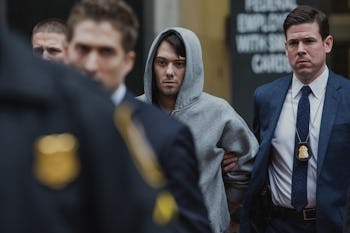 Getty Images
If you've ever wanted to learn about covalent bonds from someone who describes himself as a robber baron, has hot beef with Ghostface Killah, and maybe lost $15 million in bitcoin in a Kanye album scam, you're in luck! Martin Shkreli's YouTube school for 10th-grade chem students was in session Monday.
Beginning around noon, he read from Zumdahl and Zumdahl's seminal Chemistry, Ninth Edition as he unloaded on the internet his knowledge of orbitals and sp2 hybridization, which was surprisingly accurate. (Shkreli majored in business in college, but has been begrudgingly described as a quick study.)
"Hopefully, your love of chemistry and my love of chemistry will form a covalent bond," Shkreli says, remaining chipper in the face of securities fraud charges and a public who loathes his very visage.
For about two hours, the pharmaceutical executive scribbled electron orbitals in Microsoft Paint as roughly 300 viewers watched, until the impromptu lesson stopped as abruptly as it began.
Shkreli was arrested in December for fraud and in February pleaded the Fifth with a smirk at a recent House hearing on the high price of drugs.
At the end of his class, Shkreli teased more chemistry in the future, but did not specify whether future lessons would also be free of charge. Dude is, after all, in desperate need of a new career.