Cameron Crowe's New Comedy Doesn't Look Like a Comedy
The first official trailer for Cameron Crowe's new Showtime series 'Roadies' looks more dramatic than funny.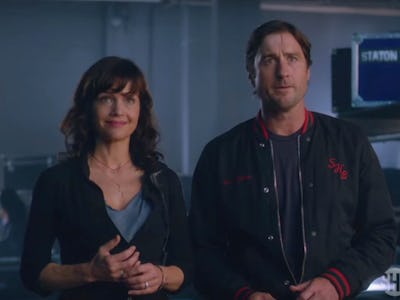 YouTube
Cameron Crowe is making a comeback via television. Today Showtime released the first official trailer for Crowe's upcoming comedy series Roadies, which follows the behind-the-scenes efforts of a group of roadies working on an arena-sized concert tour. Historically, Crowe's projects have attempted to expose the realities of lesser-known or sensationalized facets of the music industry, like his beloved 2000 feature film Almost Famous that candidly unveiled the uglier truths of music journalism. It looks like Roadies, which premieres June 26, will attempt a similar mission of pulling back the curtains, but the trailer paints the show as an intense drama, not a comedy.
The newly-available footage from Roadies is as corny and cheaply sentimental as it gets. Luke Wilson, one of the show's leading stars, senses that "something is in the air" before the clip takes off into sweeping shots of intricate stage setups and massive arena shows. Carla Gugino, who costars alongside Wilson in the upcoming series, says, "The music is good, and you meet some great people" in her short cameo from the clip. It's all about the music, man. In addition, there will apparently be a shooting at some point. So far this drama doesn't look so funny.
What tops the whole thing off is the song choice for the trailer: "Hard Sun" by Eddie Vedder. Vedder recorded the song in 2007 for the Into the Wild soundtrack, a compilation of bare, acoustic songs that showcase the infamous and polarizing rasp of Vedder's voice. Among gorgeous shots of breathtaking nature, the song's overtly sentimental tone has a safe home. In this context, though — roadies who do their jobs for the pure love of the music — the song tops off the trailer's phony, go-for-it mentality. Hopefully, another trailer will showcase some of the funnier parts of the show because, as of right now, this show already takes itself way too seriously.