Jamaica's Dancehall Jam PSA About the Zika Virus Deserves a Grammy
The Jamaican Ministry of Health's "We Nuh Want Zik V" puts the rest of the world's PSAs to shame.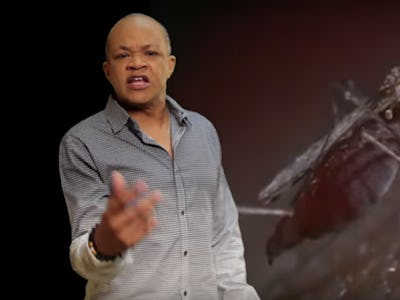 Jamaica Ministry of Health/Michael Abrahams
When it comes to heading off the Zika virus, Jamaica does not mess around. The virus-stricken country's latest PSA takes the form of a seriously turnt dancehall jam called "We Nuh Want Zik V," warning citizens about Zika's perils and how to avoid them.
Over raucous air horns and bouncing percussion, daytime obstetrician and gynecologist and all-time king of the dancehall Michael Abrahams sings, "All di people dem weh nuh want ZIK V hol up yuh han!" (If your patois is rusty, that means: "All the people who don't want Zik V, hold up your hand.") It is impossible, after hearing this song, to not hold up your hand.
On the track, Abrahams calls for Jamaicans to "mash up all mosquito breeding site" by pouring out stagnant water from vases, punching holes in tin cans, and getting rid of old tires. "Turn over drum pan," he sings, "for prevention is the greatest weapon." Daps to Abrahams for keeping his references local, ensuring his message will hit home.
The Jamaican Ministry of Health, which released the track, didn't forget Zika's link to microcephaly, either. "Special shoutout to pregnant ladies/protect yourselves and protect your babies," Abrahams says, waving a hand-held mosquito zapper like a flag.
As far as advice goes, "We Nuh Want Zik V" is spot on. As researchers scramble to find a vaccine, there's little people can do but avoid getting bitten and prevent mosquitos from breeding. Jamaica is one of four countries that have called for a two-year restriction on pregnancies, fearing Zika's link to birth defects could have serious effects on its population.
Abrahams' song is currently playing on local radio and television, and the delightfully low-budget video is playing in movie theaters.
"Fi do all that we can to keep them away," Abrahams quips at the song's end, "fuh we nuh wan' Zik V." Couldn't have said it better ourselves.