Discovery of Gravitational Waves Gets 1 Minute, 41 Seconds of Time on Evening News
"The discovery is a very big deal — or so I've been told," said an anchor who spent 26 seconds on it.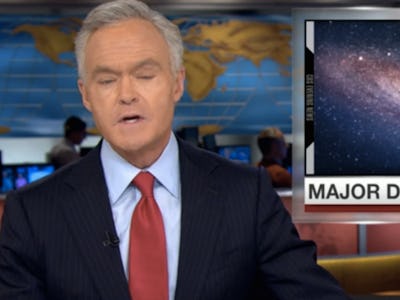 NBC
Earlier today, scientists with the Laser Interferometer Gravitational-Wave Observatory (LIGO) triumphantly announced that they had found evidence of gravitational waves, proving one of the final pieces of Einstein's theory of relativity.
This is a massive, world-changing discovery that took 100 years to find. You might expect it to lead the evening news, but you'd be wrong, of course: The CBS Evening News with Scott Pelley, NBC Nightly News with Lester Holt, and ABC World News Tonight with David Muir all covered the story in the latter half of each program, for a combined total of exactly one minute, 41 seconds. Before the news of this historic achievement we heard about … Donald Trump, the few remaining fanatics in Oregon, cruise ship trouble, and a soccer player worried about Zika Virus during the Olympics, among other topics.
Here's how each of the major networks fared:
CBS Evening News with Scott Pelley
At 6:43 p.m., 13 minutes into his show, Pelley spent one minute, two seconds on the story, before previewing his next block and cutting to commercial. Before that he covered the primaries in South Carolina, Hope Solo's concerns about the Zika virus in the upcoming Rio Olympics, the Oregon standoff, Sunday's 60 Minutes, and other topics.
NBC Nightly News With Lester Holt
Near the end of the broadcast, around 6:53 p.m., Lester Holt covered the discovery with the air of a football-quarterback student body president praising the mathletes team at a school assembly: "In any case, the discovery is a very big deal — or so I've been told," he smarmed, ending a 26-second story. Holt got to gravity waves quicker than it took LIGO's scientists to discover them, but he was still slower than CBS by a full ten minutes. He opened with the Oregon standoff's "dramatic surrender," the "battle for the black vote" in South Carolina, a new polar vortex heading south ("It sounds dangerous," he cautioned to Al Roker), the Zika virus and Olympics, the California methane leak, a vaping congressman, and Titanic II before getting to gravitational waves.
ABC World News Tonight with David Muir
David Muir covered the culmination of a hundred years of science and more than $272 million in government funding in his broadcast as well, also at 6:54 p.m., in his #TheIndex roundup. Before spending 13 seconds on gravitational waves, he covered Donald Trump, Robot Rubio, the polar vortex, Oregon, a prison scandal, the NYC gas explosion, the Anthem of the Sea, falling gas prices, and a rogue IRS agent. Finally #TheIndex, he sandwiched dedicated scientists life's work in between details of the Bill Cosby trial and a dramatic dog rescue.