The 'Equals' Trailer Showcases a Sex-less Future
Can Kristen Stewart and Nicholas Hoult figure out how to have sex in a world that has outlawed the act?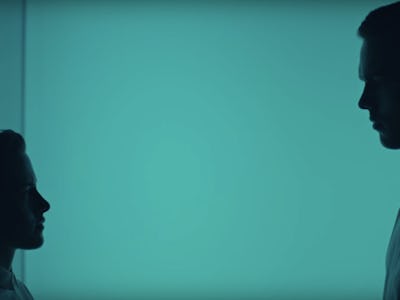 Drake Doremus, who directed the dreamy romance Like Crazy, has directed a sci-fi film, which is produced by Ridley Scott. The film appears to hinge on the supposed chemistry between its two leads, Kristen Stewart and Nicholas Hoult, which, on paper, doesn't sound promising. The trailer, however, is ethereal, suggesting a sci-fi drama that feels like Gattaca or the low-budget Frequencies. That lyrical take on a genre that has become bogged down with laser guns and alien invasions is welcome.
Variety gave the film a lukewarm-to-positive review back when it premiered in Venice, calling every aspect of the film — from the sets to the stars to the costuming — "easy on the eyes." Notably, the screenplay was written by Nathan Parker, who wrote Duncan Jones' Moon. If there's one thing science fiction could use more of right now, it's sensitive folks writing stories about people who just want to touch each other. The visuals look just as strong as the imagery in Ex Machina, and there are several shots in the trailer that suggest the lovers' attraction will cause violence. If the only action in Equals takes place in a hot shower, at least it will stand out as unusual.
Will Equals work as the Brave New World film adaptation many of us are still waiting for? We'll see when it hits theaters nationwide this summer.