The New Trailer for 'Purge' Prequel 'The Purge: Election Year' Goes Political
Blumhouse Productions wants to expand its franchise's universe with a prequel.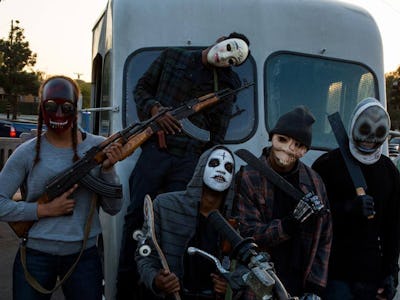 It seems Jason Blum has followed through on his promise to produce a Purge prequel, for better or worse. On one hand, The Purge: Election Year looks like a sincere attempt to create a low-budget horror universe that has its own mythology. On the other hand, as we pointed out in November, Blumhouse Productions doesn't have the best track record when it comes to complicating its own stories. There's nothing wrong with a horror production company sticking to one-off gimmicks, so Blumhouse's universe expansion feels unnecessary.
And yet, here we are, watching a female, blonde senator attacked for speaking out against the Purge. The most interesting point made in the trailer is that a system like the Purge would put poor people in the most danger, given that most low-income Americans wouldn't be able to afford high-tech security.
The Purge: Election Year will hit theaters on Independence Day weekend, which means two things: First, the franchise is really trying to drive home its upside-down-flag American irony thing, politicizing its conceit and using americana imagery in its promotional materials. Second, it means The Purge will go head to head with Independence Day: Resurgence, which, so far, looks humorless. Sounds like the movies premiering on our nation's birthday might be a bit of a drag.