Is There a Beyoncé and Missy Elliott Collab Coming?
It's happened before, and given recent events, it looks like it could happen again.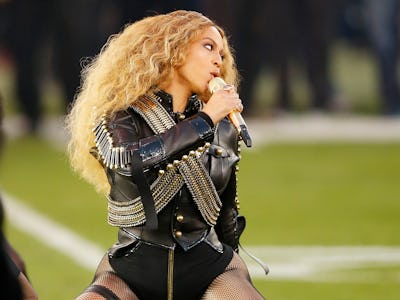 Getty Images
This year, the Super Bowl set the scene for some incredible new releases from some of our favorite artists. First and foremost, Beyoncé surprise-released her new track "Formation," a bold, Mike WiLL Made-It-produced tribute to black pride with an accompanying video replete with powerful imagery related to police violence and Hurricane Katrina. The next day, she performed the song at the Super Bowl halftime show, backed by a squad of black female dancers dressed in Black Panther garb. It's safe to say that she stole the show from Coldplay in that her politically-charged performance disrupted the whiteness of one of the most mainstream events of the year and unsparingly called attention to the racial tensions at the forefront of our country's conscience.
On the day of the Super Bowl, Missy Elliott dropped a new track "Pep Rally" to get people hyped for the big game, exactly a year after her surprise appearance onstage with Katy Perry at 2015's halftime show. Apparently, Missy loves the Super Bowl because that's two years in a row she's aligned a career-related surprise with the popular broadcasted event. We're definitely not complaining though — new Missy is new Missy and we'll take it where we can get it. With new releases from Beyoncé and Missy in time for the Super Bowl, now I'm wondering — is there a collab on the way?
Historically, a Beyoncé-Missy Elliott collaboration is not a completely unfeasible prospect. Back in 2002, Beyoncé appeared on Missy Elliott's "Nothing Out There for Me," a sexier track on Elliott's Under Construction LP that finds Beyoncé and Missy in a call-and-response dynamic. Although "Nothing Out There for Me" was not a standout from Under Construction like "Work It" was, it showcased the pair's ability to work together inside a gentle melody that wasn't as typical for Missy as it was for Beyoncé circa Destiny's Child. Before 2002, Beyoncé appeared on Missy's "Crazy Feelings," a simmering track with sparse production on Elliott's second official LP, 1999's Da Real World. On "Crazy Feelings," Elliott lends her singing voice as opposed to her boisterous raps, which, paired with Beyonce's clean vocals, rounds out the softness of the track.
The past Missy-Beyoncé collaborations are smooth and silky, but definitely of the time that they were made. On both "Nothing Out There for Me" and "Crazy Feelings," Elliott backs away from her creative rhymes and rambunctiousness to join Beyoncé in soundscapes with simple, soulful production and messages of heartbreak. It's an illuminating side of Missy to see given her credit as a rapper, but these songs could be Destiny's Child songs. In other words, Elliott is out of her comfort zone while Beyoncé flourishes in her crooning power house. That said, a collaboration between the two in 2016 would probably sound a whole lot different, and in the best way possible.
Both Elliott and Beyoncé have come into new sounds as they've progressed in their careers, in different respects. Before Beyoncé dropped "Formation," a track propelled forward by Mike WiLL's trap production, her last single was 2014's "7/11," a trap-indebted club banger that deviates from the more straightforward pop production of Beyoncé's previous efforts. Beyoncé was never a good girl, per se, but her two most recent singles find her embodying a new kind of fierceness — one that is so compelling because she's slightly more out of control. As far as Missy's recent endeavors go, she released "WTF (Where They From)," featuring Pharrell, in November 2015 along with a stellar music video, marking her first single in three years and her first video in seven. "WTF" flaunted everything we love and missed about Missy from a shifting, rhythmic beat to Elliott's lauded brand of goofy wordplay.
If you look at the respective styles of these two musicians — the rowdiness that Missy has revived and subsequently refined, and Beyoncé's recent club-ready, trap-music-heavy approach — there could be an epic collaboration on its way. Well, nothing has hinted at the possibility, but imagining the magic that it could be is really exciting and it makes sense. Whereas their past collaborations aimed to make an emotional impact with soft melodies and beautiful, controlled vocal displays, a joint effort in 2016 has the potential to give way to an epically uproarious statement, given their current approaches as musicians. Both of their recent releases have hinted that there is more to come this year, so let's hope that these two queens find each other at some point along the way.