2016's First Big TV Cancellation Is Here and You Literally Cannot Guess Who
We mean it. This is crazy.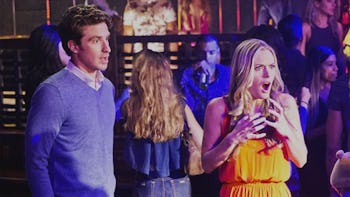 It's official. We have our first major network cancellation of 2016. This morning, CBS announced that it's canceling one of its big new projects and replacing it with episodes of 2 Broke Girls. Which critically acclaimed project got the axe?
Angel From Hell.
What? You'd never heard of Angel From Hell? Neither have we. Using some publicity photos, let's try to guess what we'll be missing out on.
OK. Maggie Lawson and Jane Lynch. Lynch seems like she might be kinda kooky, perhaps a little unstable — oh, just noticed she's got a flask in that hand. I was using context clues from the hair, but the flask really eliminates the need for subtext. Speaking of subtext: is it just me or is Lawson reacting to these events like "Whaaaa" or "Whoa"? Either way, this looks like a recipe for chemistry for comedy.
They're at a bar now and either Lynch is ordering more shots (There's a lot on the table, is she an alcoholic protagonist?) or Lynch's character is British and is flipping the bird to Lawson for reacting too hard. God, I hope they made Lynch do a British accent. I would believe it!
This promo makes me think CBS never had a title in mind, although Lawson is dressed in red, so maybe she's the From Hell part of Angel From Hell? Also, check out that reacting! Pretty strong stuff. CBS may want to rethink this decision.
Kevin Pollak was in this? Wacky. He's pointing at the single camera, indicating that this was one of the only single camera shows brought to air this pilot season, and noticing how that single camera found an audience of eight million across the first five episodes, with a slow uptick. To repeat: Kevin Pollak wants you to know that eight million people saw Angel From Hell, and you aren't one of them. You also don't know any of them. That's pretty crazy. If I were Maggie Lawson, I would be reacting quite hard right now.
Just like that! Lawson, you get me.
Here comes Jane Lynch to smother this project to death. React to an eternal void, Lawson, because Lynch is already on to character roles in three other films and a lucrative VO career.
Oh, there was a trailer? Yeah we could've just watched that I suppose. Let's all bid farewell, "One Shining Moment"-style, to what could have been: