'The Magicians' Gets Renewed for Season 2 on Syfy
The freshman series will return in 2017.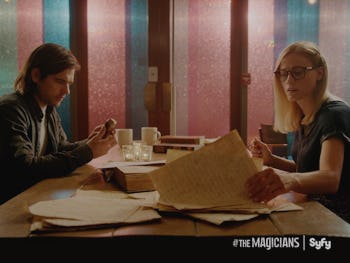 www.facebook.com/TheMagiciansSyfy
We're about to get more magic than we bargained for. Syfy has renewed their new show The Magicians for a 13-episode second season to air in 2017. The show is only three episodes into its first season, and marks another renewal for the network after their recent soft rebranding.
Syfy also renewed its freshman series The Expanse for a second season late last year.
The Magicians is based on author Lev Grossman's book series, and follows the brilliant but misunderstood main character Quentin Coldwater (Jason Ralph) as he tries to survive graduate school enrollment at a magical university called Brakebills, where sorcery is real. The series also stars Stella Maeve, Olivia Taylor Dudley, Hale Appleman, Arjun Gupta, and Summer Bishil as other magical co-stars.
"Thanks to an extraordinarily gifted creative team of executive producers and our partners at Universal Cable Productions, The Magicians has become a buzzed-about hit, enchanting fans of the novels as well as attracting new and younger audiences to Syfy," said Syfy president Dave Howe, per Deadline.
The Magicians has performed well by averaging 1.7 million viewers during each of its first few episodes. It's another new gamble by Syfy that's paid off. Besides the success of The Magicians and The Expanse, the network also aired its ambitious miniseries adaptation of Childhood's End last year.
The second season of The Magicians should be interesting for book fans and fans of the show alike. The show has already taken some liberties with the continuity of the books, while the next installments of the books offer a change of scenery that may be addressed before the first season runs out.
Find out what happens before Season 2 and watch The Magicians when it airs every Monday on Syfy.